See Testimonials below, also follow this link to see reviews on Google. You may also post reviews on Google.
Adam, Buyer of Axopar 28 writes:
Leslie and Peter of Essex Yacht Sales were incredible to work with in the 2023 purchase of our new Axopar. From our initial discussions, to the negotiations with the seller, and arranging the inspections and handling of the registrations, they worked with speed, professionalism and charm to make a complex process rather enjoyable! While we are certain to enjoy our new purchase for years to come, we would gladly seek them out again in the purchase of another boat!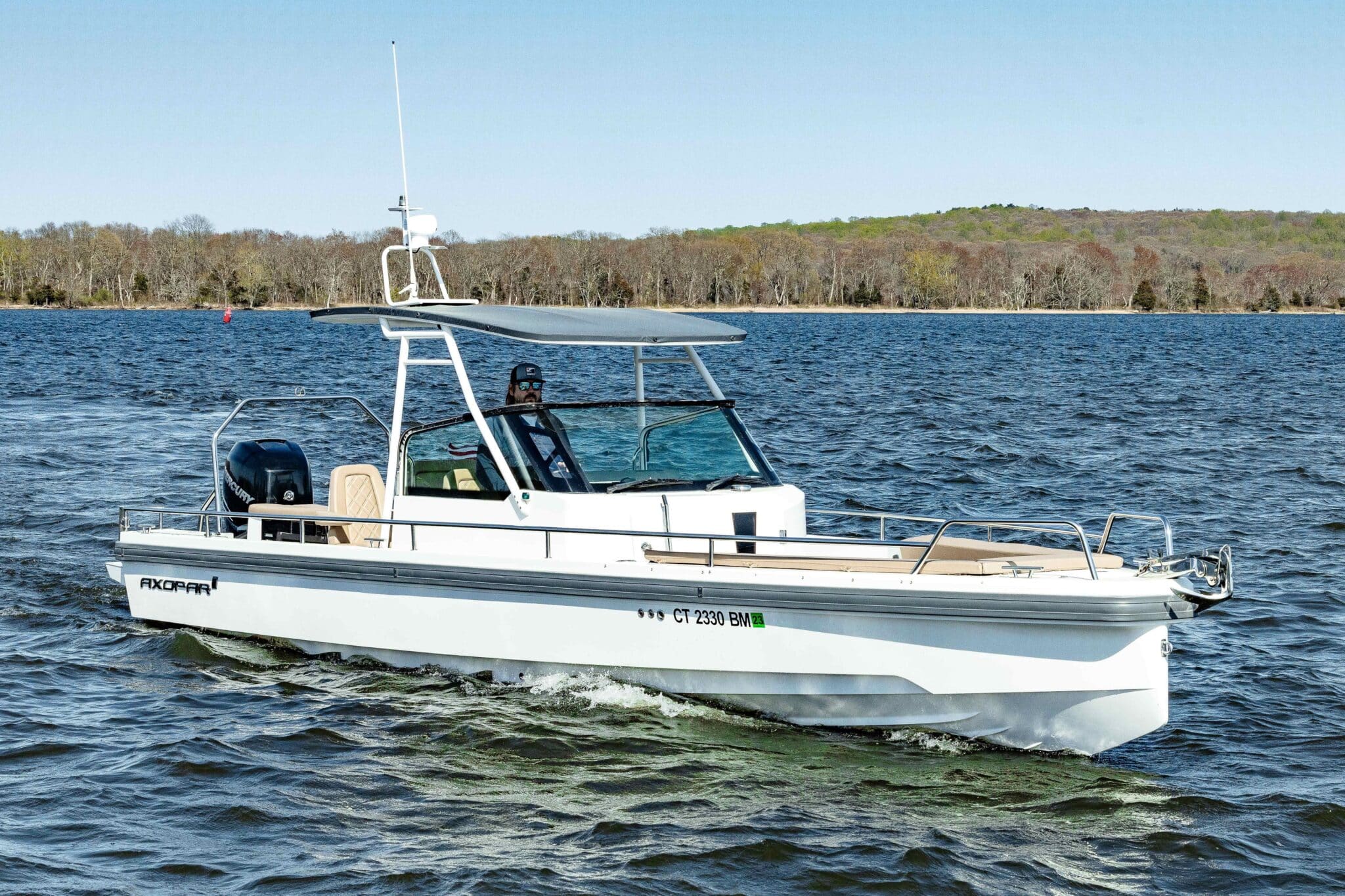 ---
Morgan C. Huntley, former owner of Vanquish Boats, Seller of MJM 34z and buyer of Eastbay 49 HX writes:
A few months back I was considering a dangerous endeavor: Purchase my next boat before I had sold (or even had a buyer for) my current boat. However, I was getting frustrated watching very clean Eastbay 43's and 49's show up on the market and then promptly sold.
After talking to Peter and Leslie at Essex Yacht Sales, I skeptically took the leap of faith that they could get me out of my current boat and into a listing they had that was the right fit for me and the family. Peter was a wealth of knowledge. On my current boat he gave excellent advice on the items to upgrade, and maintenance items to address in order to make her a quick sale while maximizing value. Once she hit the market, we had two offers within 3 days and an accepted offer at almost full asking within a week. With two surveys to get done in less than a month, there were a lot of moving parts, and Essex was there to make sure it went seamlessly every step of the way. Within 36 hours they were able to get my current boat closed, and my next boat closed.
I worked in the industry for close to 20 years and I know how rare it is to get a deal like this done. Things like this only happen when you are dealing with a brokerage house with years of experience, professionalism and integrity. The only problem is they found me the boat I plan on keeping for the next 10 years, so I regret I won't have the opportunity to do business with them again soon.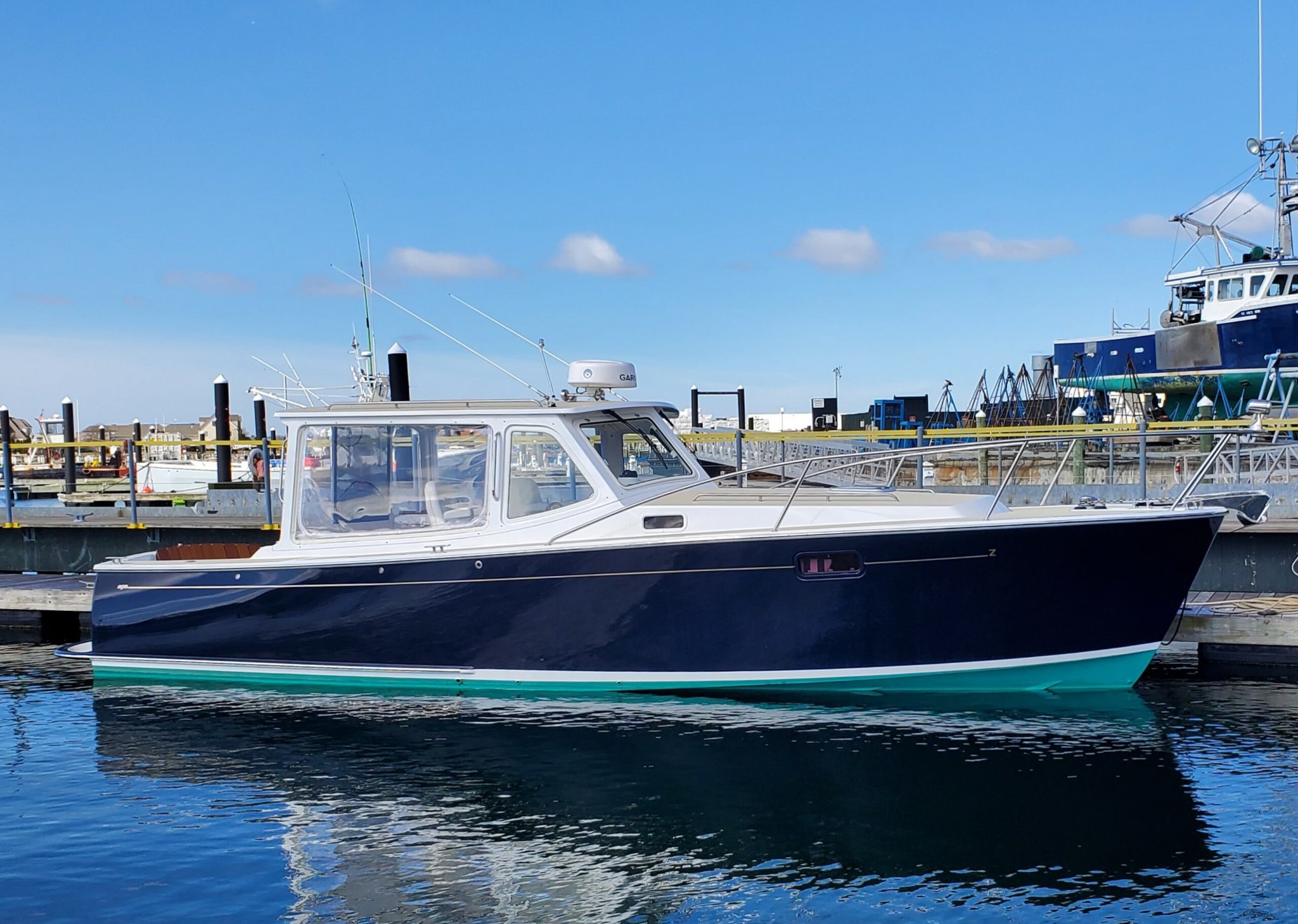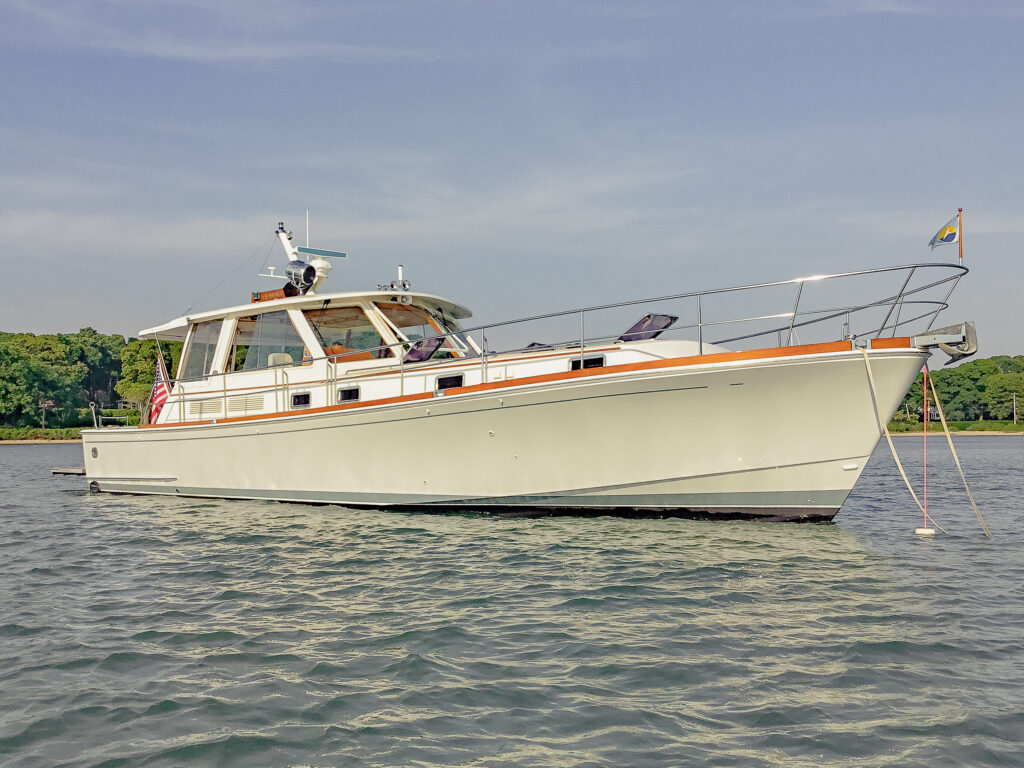 ---
Dr. Gary Park, buyer of Nord Star 28 writes: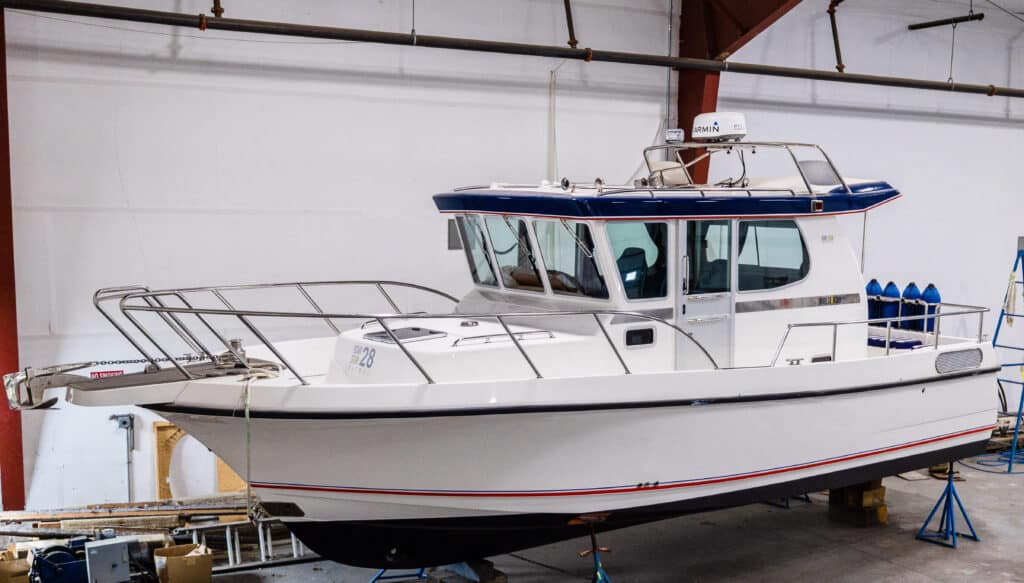 Peter, as our transaction is completed, I would like to thank you for your efforts to insure that it was fair, transparent and timely. You are a gentleman.
---
Kathy Phillips, co-seller of Eastbay 49 HX writes: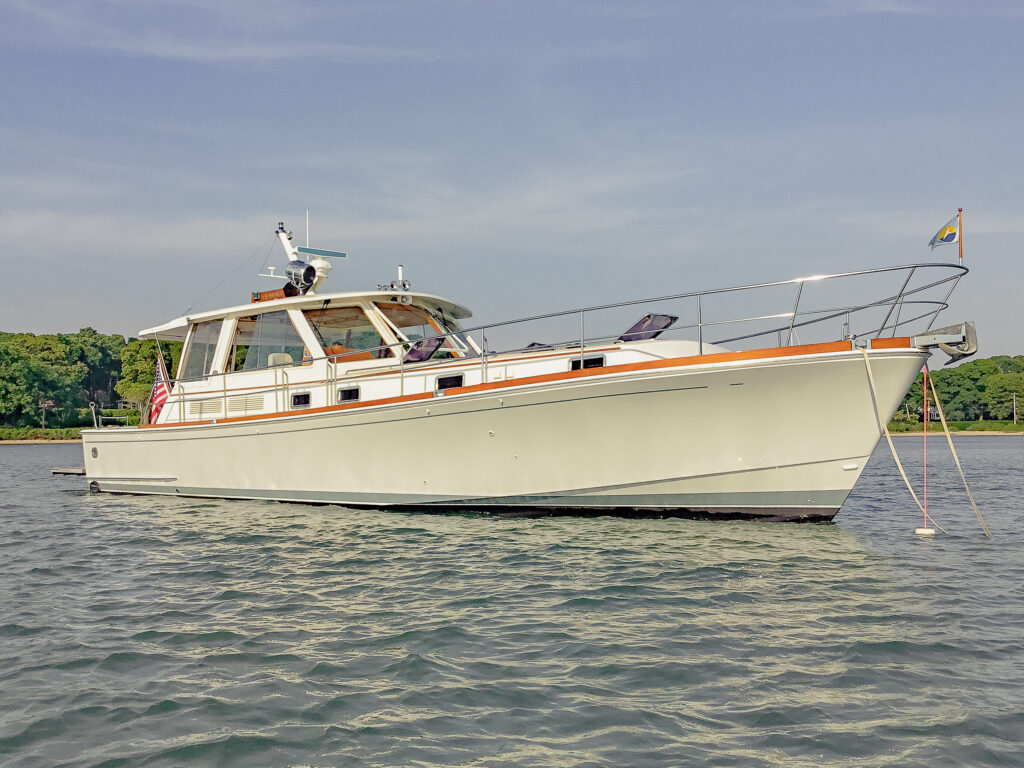 We recently listed and sold our 2000 Eastbay 49. We had owned and enjoyed the boat for 10 years and the decision to sell her was an emotional one for us. We have known the Essex Yacht Sales team of Leslie Quarrier and Peter Amos for a number of years and were very happy to have them represent us through this process. They are extremely professional, always knowledgeable, helpful and able to handle any and all of the challenges we faced. They did a great job representing the boat in the listing. In the end the process went well and met our goals in terms of sale price.
We have bought and sold numerous boats throughout the years and, without hesitation, would include Leslie and Peter in any of our future boat purchasing or selling plans.
---
Don Potter,  co-seller of Grand Banks 59 Aleutian RP writes:

My wife and I just completed the bittersweet sale of our 2006 Grand Banks Aleutian 59. Throughout the process, from initial contact to the final closing event, Leslie and Peter were superb. They educated us about the current market, helped us determine a fair and reasonable initial asking price and they managed our expectations on how the interactions with the potential buyers would go. Whenever someone came to the boat, whether a potential buyer, broker representative or surveyor, either Leslie or Peter (usually both) were there to answer questions, provide support and keep things focused and on track. They executed a robust and targeted marketing plan for our boat, making sure that the vessel got exposure to the right potential buyer audience. They actively helped us prepare for for showings and sea-trials. They kept in close contact with us through the complicated closing process and lastly, they helped us celebrate the successful sale. I couldn't ask for better representation than Leslie and Peter provided.
---
Allen Brown, buyer of Neptunus 54 writes: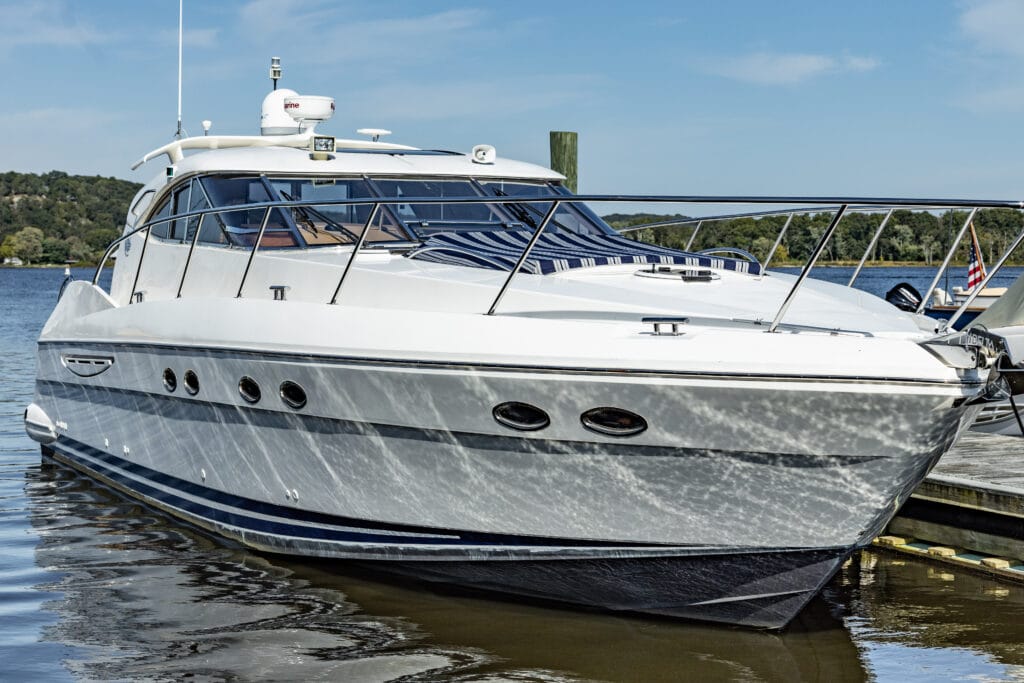 My wife and I recently purchased a Neptunus 54 through Essex Yacht Sales. Leslie and Peter had served as our brokers over the previous 15 years in purchasing (and selling) our first two boats. That's why we knew returning to the best in the business was the smartest decision we could make in searching for our 3rd boat.
Not only have Leslie and Peter advised us regarding each of our transactions and the marketplace dynamics of the moment, they've also accompanied us to tour boats of interest and provided analyses of their valuations. Their extensive knowledge and understanding of the entire boating marketplace also led us to the best professional, technical and service providers that, for each transaction, became integral to our purchase or sale process.
While Leslie and Peter functioned as our brokers/advisors for our recent Neptunus purchase, perhaps just as importantly, we've also developed a long term friendship with them that goes well beyond boating. If you want to buy or sell a boat, you can't do better than to choose Essex Yacht Sales.
---
Mark and Anna Mercurio, buyers of Mainship 34 Flybridge write:
We first met Leslie Quarrier and Peter Amos when we arranged to see a boat for sale that was listed on line by Essex Yacht Sales. That boat did not work out for us, and we then spent the better part of a year looking for the right one. We were so fortunate to have the benefit of their expertise and guidance throughout a long search. We continually went back to Peter to discuss various possibilities, and he was always helpful. We learned a lot!
That search involved discussion of many different kinds of boats, viewing several together, and ultimately with Peter travelling to North Carolina with me to see the boat we eventually purchased.
Peter and Leslie were patient and considerate, extremely knowledgeable about boats, boating, and the boat market, and always a pleasure to work with. It was such a benefit to us to work with brokers who really knew their business, and could be trusted to look out for our interests. They guided us carefully through every step of the search and purchase, everything from help arranging insurance to even arranging a terrific captain to move the boat.
Both Leslie and Peter are true professionals. We give Essex Yacht Sales our highest recommendation, and would gladly work those wonderful folks again!
---
Garry Johnson, Seller of Eastern/Judge 31 writes:
Selling an "older" boat can be a challenge even in a "hot" boat market. We sought out Peter and Leslie's advice on a potential sale of our 25 year old Downeast Eastern 31′.  Peter took the lead on this one and within a day or two he sent us a detailed pricing analysis with comps and adjustments for the extensive upgrades we had made over the last couple of years. We signed the brokerage agreement and within 24-hours Peter had a very strong offer and a back-up offer. The entire process was seamless. Peter's attention to detail and continuous communication was superb. Every milestone was met on time – we actually closed a day early!  Whether you're selling or buying a boat, do yourself a favor and see Peter and Leslie first. You'll be glad you did!!
---
Scott Benson, Seller of Tiara 4100 writes:
We want to take a moment to thank you very much for your assistance in selling our boat. Your professionalism, strategic planning and negotiation approach were second to none. As I mentioned to Leslie at sea trial day, our first experience buying a boat was less than fun. You have shown us that this process can be straightforward and focused.
You never know what the future holds. but I suspect we will be interested in boating again soon. We will be sure to reach out to you both at that time. You have sold us on your process.
---
Lawrence Green, Buyer of Grand Banks 42 Classic writes:
This is to thank Leslie Quarrier and Peter Amos at Essex Yacht Sales for making my recent purchase of Storm Runner, a 42 foot Grand Banks Classic, a dream process. I have been boating for over 60 years and have been involved in buying, owning, and selling over a dozen boats in that time, starting with a 16 ft tri-hull McKee craft, on through 65 foot sportfishermen, and up to a custom built 108ft Broward motor yacht, and Leslie and Peter made my purchase of Storm Runner the easiest of all of them.
They had a deep bench of incredible experts behind them ready to assist me in the purchase of the boat. Their host of highly qualified marinas, surveyors, diesel mechanics, marine technicians, insurance and most importantly boat document agents they recommended and orchestrated, made the purchase of the boat effortless. Being from out of town, and not the boats home port, this access to a host of excellent marine experts was even more invaluable. No boat sale is perfect, but Leslie and Peter made it almost so even when we hit the inevitable bumps and they smoothed them out effortlessly.
What I admired most though, as the buyer, was their commitment to getting the fairest deal for both sides even when they were the sellers broker and representative. They gave creative, objective, smart and firm guidance, throughout the negotiations, never forgetting they represented the seller, to get the fairest price and a good deal for both the seller and me. The proof is in the pudding, because I bought Storm Runner and the owner sold her to me.
So thank you Leslie and Peter again from the bottom of my heart for giving me another one of happiest days of my life with the purchase of Storm Runner. She's a beauty! Also be absolutely sure I will turn to you both to help me in the realization of another of the second happiest days of my life- when I sell her on in the future.
---
Paul and Sue Sposato, Buyers of Eastbay 47 Flybridge write:
Our recent transaction with Leslie and Peter at Essex Boat Sales was very professional and satisfying. They think of every detail and guide you though the process painlessly. As a life long boater who has bought and sold 7 boats of all sizes, it is nice to depend upon an informed partner in the process who is so experienced and efficient that you don't have to stress the details. Their goal is not only to sell you the boat you want but also to be sure you are happy with the process of the acquisition. From searching the requested models to arranging surveys, sea trials, insurance, detailing and closing, they know who to recommend and when! No wonder they have a such a great following!
---
John Stratton, Buyer of Grand Banks 43 Heritage Europa writes:
It's my absolute pleasure to send this letter of reference, albeit much later than I originally intended. No excuses, just a very busy summer! But the passage of time in no way diminishes my appreciation for the wonderful assistance you provided Anne and me on the purchase of our Grand Banks Heritage Europa.
As I suspect may be the case for many of your clients, the demands on my schedule can be quite significant, making the job of finding, inspecting, and ultimately purchasing a yacht very challenging. With this reality in mind, I was quite hesitant to engage the process early, but was very quickly convinced that your experience and complete professionalism would greatly reduce the time and stress I might otherwise experience. At every step along the way, your proactive communications, coordination of required tasks, and deep subject matter expertise proved invaluable. For us and the seller, the continuous support you provided smoothed the path to a successful close. We know we've found a very special boat, and recognize that she wouldn't have come our way without your efforts at every turn.
Please feel free to contact me at any time if I can provide a personal reference for any prospective clients. I'm happy to share the details of our experience and the value-add that EYS delivers so continuously throughout the buying experience and beyond.
---
Aram deKoven, Seller of Mainship 34 FB writes:
I think it is fair to say that selling a boat is never easy. That's why help is very much appreciated. Leslie and Peter Amos provided all the needed assistance and our boat sold without complications. This duo expertly handled everything from staging the pictures to overseeing the transfer of funds. Both Leslie and Peter are incredibly knowledgeable, transparent, patient, and affable. I enjoyed my experience working with this couple so much I plan to work with them again to find our next boat.
---
David L, Seller of Eastbay 38 HX writes:
When the time came to sell our Eastbay 38, my first and immediate thought was to enlist the talents and experience of Essex Yacht Sales. Leslie and Peter bring new meaning to the words" know your customers". Their knowledge of boats and the boating market is unmatched. They introduced us to a buyer the very next day, and worked with us, and the new owners, to a successful closing.
Thank you Essex Yacht Sales!
---
Mark and Karen, buyers of Eastbay 38 HX write:
Leslie and Peter are the quintessential team we didn't expect getting when we shared our dreams for our next boat with them. They listened, advised, and worked diligently to make sure we all found that perfect next boat. We appreciated their advise and guidance every step of the way from the initial inspection through the close. Thank you both for a wonderful experience.
---
Nancy and Richard Green, buyers of Navigator 44 write:
We contacted Leslie Quarrier based on the high recommendation of a friend, Dan Harding, the Editor-in-Chief of Power & Motoryacht Magazine. Our trawler had just sold, and we hoped to find a nice upgrade, while realizing that it's currently a seller's market and buyers have to act quickly and perhaps pay top dollar. Leslie and Peter Amos met with us immediately and swung into action. They have the inside scoop on what is new on the market, and direct contacts to get more details than the buyer can obtain.
Well, the boat we liked initially, was in Cleveland – quite a journey from our home in Connecticut, but it was the style we felt we must have. Leslie was persistent with the Listing broker, to get a quick offer in for us. Then, Peter took two trips to Cleveland with us to guide us through the viewing and surveying processes! Ultimately, we did withdraw our offer after consulting with Peter on the extensive maintenance issues that were revealed in the survey.
Fortunately, next up was a lovely 2004 Navigator 44 flybridge cruiser, which had just re-entered the market. It was a design we loved, and had been very well maintained. Again, we acted quickly with the help of Essex Yacht Sales. Peter went multiple times with us to Rhode Island to see the boat and be present for the inspections. He reviewed the findings carefully with us, and negotiated a fair price. Within a few weeks, we had brought our new boat back to our marina slip in Westbrook!
We highly recommend Leslie, Peter and their team for their cheerful and knowledgeable guidance through the entire process. They were there for us in person as well as by phone, text and e-mail, to travel with us, make suggestions and answer any questions or concerns. Peter reviewed pages and pages of survey reports and provided his own invaluable insights, making us feel even more confident in our boat purchase. Thank you again, Peter and Leslie!
---
Allen Brown and Susan Taylor, buyers of Regal 4460 Commodore write:
Sue and I want to thank you for providing so much guidance and support as we 'navigated' our search for and ultimate purchase of Second Symphony.
We are pleased that we have now had a business relationship with Essex Yacht Sales for almost 15 years (and 3 separate transactions) and have a wonderful personal relationship with you both, even when we were not buying or selling a boat.
We want to express our appreciation.  We never would have found a boat this summer without your help. Thanks again.
---
Peter Doremus, seller of Legacy 40  writes:
Thank you both for all your help and advice  one of the easiest transactions I have ever experienced. Well done! Our best to you and Leslie; we will meet again.
---
Pete and Nancy Barrett, buyers of Neptunus 56 write:
It was a difficult decision for my wife Nancy and me to put up our 2007 Silverton Sport Bridge, "Two Old Crabs" for sale, but we didn't have too much time to think about it as it sold a week after it was listed last Fall.  We started our search for a new boat before listing our boat believing we knew exactly what we wanted.  What a surprise to learn we
were only on the periphery of understanding what the next boat should be after looking at what seemed to be dozens of boats!  Then along came Leslie and Peter who were patient with our indecision about exactly what was going to be the right fit for our next boat.  We looked at several and went in many different directions – convertible, trawler, pilothouse.  Finally, we found what we were looking for, a 2003 Neptunus 56 FB, aptly renamed "Still Crabby"!
You are not going to find a finer pair of brokers than Leslie and Peter – sincere, honest, dedicated, professional and genuinely nice people.  Nancy and I highly recommend contacting Leslie for buying or selling your boat.
---
Pete Stagaard, seller of Eastbay 38 writes:
Any who makes the decision to sell their boat won't be disappointed if they choose to use Essex Yacht Sales. Leslie Quarrier and Peter Amos are both knowledgeable and energetic and you will be satisfied. Selling my Grand Banks 38 "Lulu " was a big decision and I'm glad to have had Essex Yacht Sales.
---
Bill and Sue Babek, buyers of Grand Banks 36 Heritage Europa write:
Not having purchased a "new" boat in 20 years, but at the point of our life that it was time to move to a power boat, we did not know what to expect in the process.
Our last boat was a 1982 Cape Dory 36 that we have lived aboard for the past 18 years in the summers and cruised with her from Maine to the Bahamas. Due to age we just could not handle her as well as in the past.
We looked at many different types of boats and came to conclude that a trawler would service our needs excellently. Then the question, "which type, size, and manufacturer?" Upon further research came to decide on a Grand Banks. We also felt either a 36 or a 42 would suit our needs, but after extensive investigation, we decided on a 36 Grand Banks Europa.
And did we find a great boat with the help of Leslie and Peter! Both were knowledgeable and walked us through the process of buying her. Their recommendations were invaluable and made the purchase much easier than expected. Communications were prompt and professional.
Thank you both!!
---
Stephen Roger and Diana Bushard, buyers of Eastbay 38 write:
"One week from 'saw it' to 'sailed it home' "
Leslie and Peter did a fantastic job expediting a quick closing. We were in NY looking at a boat on Sunday and we decided to see Alerin, an Eastbay 38, on the way home. On very short notice Peter and Leslie got us aboard a few hours later. The boat was pristine, our offer was accepted Monday and our survey was completed Tuesday, financing and insurance on Thursday, closing on Friday and we sailed it back to Marblehead on Sunday. We provided the surveyor, Leslie and Peter provided all of the other contacts and connections, including a captain to help with the trip home. Everyone we dealt with, including the sellers, were helpful, efficient and most importantly, simply delightful people. They made the entire transaction a pleasure.
---
Dan Neri, CEO of North Sails Group and buyer of Duffy 35 writes:
"I have been remiss in sending you thanks for the great job helping Karen and I find and purchase the Duffy 35 Anamchara (now Turtle).    Turtle is ideally suited to our plans.   She is structurally rock solid and cosmetically just beat up
enough that we are happy to go on adventures without stressing the finish.   I am impressed by how quickly you figured out our needs and taste in boats.
The transaction, from first inspection through the survey and hand over could not have gone any more smoothly.   Your help was invaluable and your unflaggable positive attitude made it fun.
We are still in the water and have been exploring Narragansett Bay or exploring the engine room (for learning, not repairing) every weekend.    Everything is good and we are looking forward to some winter work at Wickford Cove Marina.
Thanks again for your guidance and advice.   Please don't hesitate to use us for a reference if that is ever appropriate."
---
Chuck and Cathy Hill, buyers of Tiara 3100 write:
Our experience with Essex Yacht Sales was exceptional from the start of our first meeting to the closing on our Tiara 31 Coronet.  Leslie and Peter took considerable time in helping us to determine the right make of boat with the options that suited our every need and their thoughtful advice, input and recommendations resulted in a boat that exceeded our expectations. While we were very pleased with the entire process, what we liked most was that the Essex Yacht Sales team always had our best interest in mind and provide a personal service well beyond just selling/buying – most importantly Leslie and Peter were always available, anticipated our needs and bottom line are two down to earth individuals who are absolutely delightful to work with.
---
Mike Osnato, seller of Tiara 400 writes:
I have been involved with buying and selling multiple boats, houses and property. Essex Yacht Sales is the most efficient, client-centered firm I have ever worked with. Leslie and Peter are always available, helpful and knowledgeable. Mike Osnato, immediate Past Commodore  North Cove Yacht Club, Old Saybrook, CT.
---
richard didan, SELLER OF MAINSHIP 34 AND BUYER OF GRAND BANKS 42 WRITES:
After discovering "Paradis" right in our own back yard (or back cove) in early May, Essex Yacht Sales provided timely, informative, and most courteous service throughout the summer. Eventually, the drama ended in a flourish with the simultaneous sale of our beloved "Dark Horse" coupled with new ownership of a pristine Grand Banks 42 Europa.
The Didans are most grateful to Leslie Quarrier and Peter Amos for their boating expertise, marketing strategies, and professional savvy which proved valuable time and time again.
Leslie provided many friendly and skilled contacts which we used to make our decision(s) that have been helpful with our new boat after the sale. I hope this note helps you both in the season ahead and look forward to seeing you again.
---
Joanne Masin, seller of San Juan 30 and buyer of Grand Banks Eastbay 50 writes:
"It was a wonderful experience purchasing our Eastbay 50SX 'Quarterly'.  Leslie was a delight to work with, knowledgeable and most helpful from start to finish."
---
Scott Anderson, buyer of Marine Trader 38  writes:
"Leslie was a pleasure to work with, very diligent and responsive. Good follow up and makes you feel like her best customer. She participated in all aspects of the purchase from initial showing, follow-ups, survey and sea trial."
---
 John Hjort, buyer of Grand Banks 36 writes:
"From our very first meeting, it was a pleasure working with Leslie and Peter at Essex Yacht Sales. While in the area one weekend, we called on a lark hoping to have our first look at a Grand Banks. Leslie graciously set up some time for us. We looked at two available Grand Banks and, all the while, felt so comfortable and unpressured with Leslie and Peter."
"One of those boats is now ours. Throughout the process, Leslie made the purchase of our Grand Banks as seamless an undertaking as could ever have been imagined. She has the knowledge and experience to solution all aspects of the process from showing, discussing the pros and cons, financing, survey, sea trial, you name it. Her recommendations of local names and businesses for services was invaluable to us. Leslie is passionate about her work insuring every aspect is spot-on. Peter is the quintessential Wingman, extremely professional. His technical input was perfectly on target in helping us resolve a small engine detail."
"Leslie and Peter had us covered every step of the way and made a daunting process seem like a cruise on a calm bay. We still can't get over finding "the right" boat and being able to purchase it through such a delightful team."
---
 Karen Lika, buyer of Eastbay 38 writes:
"We recently bought a boat through Leslie and team. They were a joy to work with and very helpful throughout the process. I highly recommend Essex Yacht Sales."
---
Dr. Max Okasha, seller of Legacy 28 and buyer of Back Cove 33 writes:
"I have had a wonderful experience with Essex Yacht Sales. Leslie is a very competent organized knowledgeable Yacht broker the whole experience of selling my boat was made very easy seamless and enjoyable. Leslie and Peter were great helping me find a buyer quickly and guided me every step of the way."
"I was also fortunate to have Leslie as my broker when I wanted to buy a new boat again she excelled and went beyond my expectations to find a boat for me and to help and guide me until I found the right boat helped me with her connections to have my boat surveyed financed and insured."
"I highly recommend Essex Yacht Sales and would be glad to refer family members and close friends alike to Leslie and Peter."
---
Jeffrey Goldstein, buyer of Mainship 31 writes:
"I can't imagine a better buying experience anywhere. Leslie was knowledgeable, accommodating, and thorough. Her attention to detail throughout the sale was spot on including her follow up once we left the boatyard.I wouldn't hesitate to recommend her to friends who were interested in either buying or selling a boat."
---
Peter Bierrie, seller of Blue Seas 31 writes:
"I feel remiss in that I have waited so long to put our earlier verbal praise in writing."
"You were full of surprises in the scope of your knowledge of everything pertaining to boats and people."
"Despite my having sailed since 14 ,the whole boat selling process still became an education."
"Of course your charm made the few showings where I attended almost a pleasure, and your energy and enthusiasm for brokering such a small boat was a lesson in professionalism."
"So many thanks again for your successful Halcyon 'campaign'."
---
Lamar LeMonte, buyer of Grand Banks 42 writes:
"Leslie is not only the most competent broker I've ever worked with, she is also the most knowledgeable source for information, arcane parts and service vendors."
"Find me a fitting made in Malaysia 30 years ago."
"No problem, here are three vendor sources."
"Don't debate working with her firm. Do it and relax. She will take care of everything."
---
Kevin S. Garrity, Grand Banks Eastbay 43 seller writes:
"I am writing to share my representation and sales experience with Leslie Quarrier. I am a demanding luxury boat owner with a like-new condition eight year old Eastbay 43. No question my boat was in excellent condition with under 200 hours. Leslie had the patience to work with me for almost two years until a qualified and knowledgeable buyer was found. I wasn't moving off my asking price and Leslie understood this and calmly dealt with all my parameters."
"Leslie found a qualified buyer, worked with both parties though the inspection process and was also present for the boat survey and closing. In fact Leslie was equally sensitive to both of our issues and managed a compromise that was satisfactory to both parties."
"I would recommend without hesitation Leslie's representation in both the buying or selling process. Her integrity is at the highest level, and no matter what the challenge, her warm and engaging personality ensures a wonderful experience."
"Often said 'knowledge is power' and I believe Leslie is one of the most knowledgeable brokers in the marketplace today. In fact she consistently kept me updated with changes in the marketplace."
"I am extremely satisfied with my experience with Leslie and would not hesitate to recommend her."
---
Henri M. David, Jr., Duffy 35 FB seller writes:
"Leslie H. Quarrier, CPYB is a true professional in her field. Whether you are a seller or buyer Leslie is most diligent in making sure all representations are correct and all details are followed up. Also of note, Leslie puts forth a true effort to consummate the transaction. I highly recommend Leslie to represent you in obtaining your yachting objective(s)."
---
Grieg Todd, Mainship 30 Pilot buyer writes:
"Moving up from a smaller boat, I had many questions. Leslie made sure the process was as smooth as possible. During the search she carefully selected boats she thought would be a perfect fit, and once my offer was accepted, she worked tirelessly to keep the deal on track and on schedule. She was always clear, always honest, and always available to answer questions. Thanks to Leslie, I could not be any happier with the process or with my new boat!"
---
Tom Whidden, Past Commodore Essex Yacht Club, President and CEO, North Technology Group, eight time America's Cup Tactician, seller of Eastbay 43 HX, buyer of Eastbay 55 SX writes:
"Leslie, I wish you the very best of luck in what is an exciting new venture, in a business that you know better than anyone. As you know, I have bought two good size boats in my life, both from you. You made fairly difficult transactions so easy and you have given me fantastic support ever since. You have a wonderful location in the Brewer's Yacht Yard in Essex. I am guessing that you will have many years of success ahead."
---
Donna Kolius, buyer of Sabre 42 HX writes:
"Leslie Quarrier is a very professional yacht broker. Although she represented the seller of the boat I acquired, she treated me fairly and with respect to the point that I often forget she did not represented me.  She is detailed oriented and made sure I did not miss any key activities necessary to purchase the boat. Problem resolution and transaction management are her best skills. She made the sale between me and her seller painless.  I consider her one of my special friends in Essex and plan to remain in touch."
---
Henry Thorn, buyer/seller of  Grand Banks 36, Sabre 42 (sailboat), Northern Bay 36 / Hunter Scott  ( Lobster yacht), Eastbay 43 Flybridge, Hunt Yachts  Surfhunter  33 writes:
"We have known Leslie for over 20 years. Leslie handled  the sale and purchase of  six boats for our family. She was always available  evenings and weekends to show us boats .
Leslie walked  us through the sale and purchase contracts professionally and always calmed our anxiety during those anxious moments. We always feel we are in good hands with Leslie.
When we found it was time to downsize , Leslie sold our Eastbay 43 " Mischief"  and helped us purchase a wonderful new  " Mischief" a Hunt Yachts  33″.
---
Wes Bray, seller of Back Cove 29 and buyer and seller of Beneteau 343 writes:
"We have worked with Leslie for the sale of two different boats, one sail and one power. In both cases her diligence, professionalism, excellent network and persistence carried through to a successful sale."
---
Chuck Ramsey, buyer and seller of Island Gypsy 44 motor yacht  writes:
"In 1996, I decided that it was time to get back into boating.  A friend referred me to Leslie Quarrier in Essex.  I described the boat I was looking for and she told me that it was my lucky day!  She had the boat sitting on a mooring at Essex Yacht Club.  Within three weeks of viewing my future "summer home" the ship was mine.  Leslie's knowledge of the market, total professionalism and reputation for integrity proved that I had chosen the right boat and the right broker."
"Last year, when my wife told me that it was time to get out of boating, I chose Leslie Quarrier to sell the love of my life, the M/V @Home.  Again, her experience in the art of buying and selling yachts proved, once again, that I had made the right choice.  She negotiated a sale that was advantageous to both parties and @Home now has a new Captain and First Mate.  Thanks Leslie, for 16 great years "at the helm".
---
Allen and Sue Brown, buyers of  Grand Banks 42 Classic  write:
"Leslie sold us our first trawler six years ago. She guided us through every element of our search, showing us boats all over Long Island Sound, recommending financing sources, surveyors, insurance brokers, marinas, service firms and equipment suppliers. She knew everyone! When we found our boat, she coached us  through the entire purchase process, from negotiating a great price to closing the deal in record time. On top of that, we became great friends and have kept in close touch with her ever since. When it's time to sell and buy again, Leslie is the only broker we'll consider…  because she's the best in the business."
---
Chuck and Barbara Coffey, buyers of Sabreline 47 write:
"Having purchased 6 sailboats over our 19 years of boating, when we decided to make the change to a power boat, Leslie was highly recommended to us by several professionals in the industry.  Having sold our 47′ sailboat in January, we wanted something very spacious and comfortable, yet capable of cruising around 20 knots.  Having shown us Eastbays and Sabres, we decided that the Sabreline 47 was a perfect match.  From there, Leslie contacted several listing brokers on our behalf in order to get a more detailed history of each boat we were considering."
"Once we chose a boat, Leslie flew to Chesapeake, VA with us and within a few days, we had a contract.  We were unable to attend the survey, due to our work schedules, but Leslie flew back to Virginia order to represent us, sending photos to us as the survey progressed.  The closing was a breeze and Leslie had excellent recommendations for delivery Captains.  Our boat arrived in April, a mere 3 months after the sale of our sailboat."
"All in all, Leslie made the process so much easier than we thought it would be to switch from sail to power.  She has a wealth of information to share and we could not be happier with our boat."
---
Carla Klein, buyer and seller of Grand Banks Eastbay 47 FB Sedan writes:
"Over the past 15 years I have had the pleasure of using Leslie as the yacht broker for the purchase and sale of the Grand Banks line. With her vast knowledge of all the intricacies of each model, Leslie, not only eased my mind but also aided me in the selection process for a new purchase.
I would highly recommend Leslie Quarrier for anyone considering a Grand Banks or Eastbay yacht."
---
Dr. John McCallum, Commodore, Sachem's Head Yacht Club, and Erin McCallum, sellers of Sabre 386 and buyers of Eastbay 43 write:
"We recently sold our beautiful Sabre 386 sailboat and bought an equally beautiful Eastbay 43, with Leslie's help and expertise. Both transactions went smoothly and timely. It was a pleasure to work with Leslie as she is extremely knowledgable and wonderful individual to help us navigate this process. She found us a buyer for our sailboat and expedited our purchase of a gorgeous new boat that fit our every need and desire. Leslie is a true professional and a trusted friend. We wish her the best in her new venture."
---
Steve and Susie Frasier buyers of 42′ Sabre FB Express Cruiser write:
"Leslie deserves all the praise she has received because she is persistent, tireless and attentive to the needs of her clients. She will go to the ends of Long Island to check out that next boat that might be the right fit for them.
Susie and I, both Colorado residents, were probably the two most unlikely buying prospects Leslie might have encountered. Susie was in CT for her 50th HS class reunion and I was the new husband who didn't know a soul there. So, I said, Let's go boat shopping on our down time.
We bought our 42′ Sabre FB Express Cruiser on Long Island in 2014 with Leslie's guidance and have enjoyed cruising from CT to ME to FL and everywhere in between."
---
Ron Levine, CEO, The Front Line Group, seller of Marine Trader 38 and buyer of Ocean Alexander 50 writes:
"MERLION is finally home in Essex.
As you certainly are aware; it can be an extremely frustrating experience dealing with co-brokers and boatyards hundreds of miles away. But I have to give you the highest praise for your knowledge, tenacity and expertise in putting my purchase together. I have to
admit I've never engaged the services of a Yacht Broker for any prior boat purchase before but I'm now enlightened.  You stayed in constant contact with both myself and the Virginia brokerage company during both the negotiation and delivery phases of my acquisition and made what could have been a 'no deal' into a seamless 'deal' and I'm grateful for everything you did.
Sometimes it really does pay to have a 'control freak' on your side." ????
---
Rick Weiner, buyer of  Boston Whaler 24 Outrage  writes:
"I was just blown away by the relentless professionalism displayed by David Dorrance and Leslie Quarrier throughout the pursuit, negotiation, purchase and commissioning of my new boat. Their sterling reputations are well deserved. To call David's service "above and beyond" would be an understatement. Leslie was equally understanding of my requirements and helpful wherever and whenever necessary without hesitation. The team at Essex Yacht Sales clearly understands the needs of their clients and does the best job possible to exceed expectations."
For Listings Click here. If you're looking for a particular kind of boat, Essex Yacht Sales can find it for you. Click here.
News & Events
June 9-11, 2023: Eastbay Rendevous at Safe Harbor Essex Island
April 28- May 1, 2023: CT Spring Boat Show at Safe Harbor Essex Island
July 22-24, 2022: Classic Wooden Boat Show at Safe Harbor Essex Island the the Connecticut River Museum, Essex
June 10 – 12, 2022: Eastbay Rendezvous at Mystic Seaport, supported by Essex Yacht Sales
April 29 – May 1, 2022: CT Spring Boat Show, Essex Island
Jan 28, 2021: Leslie Quarrier CPYB was honored with CPYB's 2020 Dedicated Service Award.
Dec 30, 2020: The 2021 boating season is coming very soon! Let us help you buy or sell a boat
Dec 1, 2020: The CT Spring Boat Show will take place at Essex Island from April 30, 20201 to May 2, 2021
Nov 20, 2020: The market is still very active. This is an excellent time to offer your boat for sale. Contact EYS (860) 388 -8701
Oct 3/4, 2020: Essex Yacht Sales Open House, Dauntless Shipyard, Essex, 10 am to 4 pm
August 4, 2020: We have many new listings. Now is the time to list, and sell,  your boat.
July 7, 2020: All boat shows have been cancelled due to COVID. However sales activity is at record levels and we are actively listing, showing and selling boats.
May 20, 2020: Our office has re-opened. Activity is strong.
April 9, 2020: The Connecticut Spring boat Show has been cancelled, due to the COVID-19 pandemic.
December 4, 2019: Essex Yacht Sales reports that Peter Amos has been admitted as a Certified Professional Yacht Broker (CPYB). Essex Yacht Sales has the rare and coveted distinction, held by only 39 other brokerages throughout the US and Canada, of being an 'Endorsed Brokerage' with all of its brokers holding CPYB certification.
October 10, 2019: Yacht sales continue to be strong, and the market is active into this beautiful New England fall. This reflects strong consumer confidence, highs on the Stock Market, and a shortage of boats in some sectors. This is supporting the prices of good brokerage boats. We are looking for quality listings, and will market your vessel professionally and energetically.
August 17, 2019: Join us a the 2019 Newport Brokerage Boat Show, Sept 12-15
June 2, 2019: See new listings: Duffy 35 HX and Eastbay 38
May 6, 2019: Great Show in Essex!
Feb 7: The Connecticut Spring Boat Show will take place at Essex Island, Essex, CT from May 3-5, 2019. Join us!
Dec 26: Read Steve Knauth's Eastbay 43FB article in Soundings. Click here
November 24: Just listing a  rare and very special Uniesse 48′, 1998. In the Essex CT area.
October 15: Just listed a nice Legacy 28, 2001
October 31- November 4: See the new Nimbus W-9 series at the Fort Lauderdale International boat Show
September 13-16, 2018: Newport Boat Show and Brokerage Show – see us in Newport!
August 31, 2018: See our beautiful 1997 Grand Banks Heritage Classic 42, just listed
May 19, 2018: Just listed a beautifully maintained and upgraded Krogen Express, 2009, commissioned 2011, sold new 2012
May 2, 2018: Just listed an impeccable 2015 Regulator 25
April 30, 2018: Just listed a beautiful Grand Banks 42 Classic, 1986. See her at the CT Spring Boat Show , Essex Island, May 4-6.
April 5, 2018: Jon't miss the CT Spring Boat show in Essex Click here
March 2, 2018: We survived the great ice dam in the CT River and were so grateful to the USCG. We dodged Winter Storm Riley, so what else is is in store? Hopefully tranquil, warm waters ahead, and a splendid boating season. The CT in-water Spring Boat Show is coming soon to Essex: May 4-6, 2o18
February 26, 2018: Started the year really well, with excellent sales in February, despite the weather – we predict a very good season. Brokerage prices are strong, so this is the perfect time for Essex Yacht Sales to list your boat, with good exposure at the upcoming CT in-water Spring Boat Show and comprehensive marketing.
January 18, 2018: Click here to see the latest Newsletter # 18: Click here
January 14, 2018: Click here to see the latest Newsletter # 17: Click here
January 9, 2018: Happy New Year! Essex Yacht Sales just listed a beautiful Eastbay 50 SX Click here
December 23, 2017: We have passed the shortest day (!) and are already seeing stirrings that 2018 will be an exceptional year for boat sales. Meanwhile we wish our many clients and friends a very Merry Christmas, Happy Holidays and best wishes for a healthy and prosperous New Year.
December 7, 2017: We were delighted by Steve Knauth's terrific article in 'Soundings' about GB 42 Europa 'Paradis'. This is an historic boat, hull number 1560, and the last of a storied tradition. Essex Yacht Sales was pleased to negotiate the sale of 'Paradis' Click here
November 1-5, 2017: Let us know if you will be visiting the Fort Lauderdale International Boat Show (FLIBS). See us at the Nimbus display.
October 29, 2017: See new listings: Sabreline 47 Motoryacht -2003, and Hunt Yachts Surfhunter 33 – 2006 Click here
September 28-30, 2017: TrawlerFest, Bay Bridge Marina, Stevensville, MD – see us there.
September 21-24, 2017: Norwalk Boat Show – see us in Norwalk.
September 14-17,2017: Newport Boat Show and Brokerage Show – see us in Newport
September 1, 2017: Nimbus Boats now come with a 10-year hull warranty. Click here
August 13, 2017: The brokerage market is very hot right now, so this would be an excellent time to list your boat with Essex Yacht Sales.
July 24, 2017: Subscribe to our YouTube channel for the latest boating videos Click here
July 21, 2017: We added two exciting new videos. Click here
July 14, 2017: Your Marine VHF is DSC-capable in an emergency, but have you registered it? It may save your life. Click here
June 2 and 3, 2017: Mystic Seaport hosts an Eastbay Rendezvous.
Click here
April 11, 2017: Join us at the CT Spring Boat Show, Brewer Essex Island, May 5-7. Free entry, free parking
April 2, 2017: David Dorrance, CPYB joins Essex Yacht Sales. Click here
March 23-26, 2017: Join Essex Yacht Sales at the Palm Beach International Boat Show to view the Nimbus 305, 34 Nova and 405 Flybridge at the Palm Beach International Boat Show.
February 24, 2017: 68F today! The buyers are coming, the phones are ringing. List your boat now! We are very active showing boats and getting strong offers.
February 8, 2017: Essex Yacht Sales offers the rare opportunity to acquire a superbly presented Windy Tyhoon 43, 2007. Click here
February 4, 2017: Spring is coming soon! We are preparing for Boat Shows, listing boats, showing boats, and getting offers. Watch for several exciting new listings this week!
The market is hot, and good boats are in demand, so call Essex Yacht Sales today.
February 3, 2017: Three exciting new Nimbus videos have been uploaded to Essex Yacht Sales' You Tube Channel, which may be viewed here on the Nimbus page on this website Click here
January 19, 2017: Essex Yacht Sales will be exhibiting at the Connecticut Spring Boat Show, Brewer Essex Island, Essex, CT May 5-7, 2017
January 17, 2017: Essex Yacht Sales will be at the Nimbus display, at the Palm Beach International Boat Show, March 23-26, 2017,
November 19, 2016: Boat sales activity continues, with strong accepted offers in November. Buyers are seeking good quality brokerage boats, which are in short supply. Now is a great time to list your boat with Essex Yacht Sales, or engage us to find that special boat for you (no fee to buyers).
November 8, 2016: Essex Yacht Sales has been appointed Strategic Sales Partner to Delta Powerboats. Essex Yacht Sales is excited to present the exciting and innovative range of boats and motoryachts from Delta Powerboats, from 26′ to 88′.
Click here for more information
November 5, 2016: Please call us about listing your boat. We are seeing strong buying activity from the west coast and south-east, where the boating season continues year round. Certain US brands of new boat are not keeping up with demand, This drives a strong market for well-maintained, quality boats, available, immediately. This is a great time to list your boat.
October 16, 2016: Essex Yacht Sales welcomes on board Reuben Trane, as senior professional adviser and southeast representative. With deep roots in Florida, and extensive global experience, Reuben brings exceptional knowledge of the yachting industry and market. Mr. Trane has more than 35 years' experience designing, building and marketing pleasure craft, from 14' sail boats to 65' trawlers. During this period, he successfully created five different brands. Click here for more information
October 8, 2016: Three surveys in the space of 7 days, 3 showings just today tells us that the market is very active. We are seeing buyers from the South-East and West Coast. It is a great time to list your boat with Essex Yacht Sales. A quick fall sale can save you the cost of hauling, winterizing and storing.
October 1-2, 2016: Eastbay Rendezvous at Mystic Seaport. Postponed due to weather
September 15-18, 2016: Essex Yacht Sales displayed three boats in the Newport Brokerage Show: 2014 Eastbay 50SX, 2015 MJM 40z and 2000 Grand Banks 52 Motoryacht
July 24, 2016: See us at the Newport Brokerage Show (in association with the Newport International Boat Show), Sept 15-18, 2016.
July 22, 2016: Our newly listed Eastbay 50 SX has just 114 hours. Impeccable quality and condition throughout. (No longer available)
July 7, 2016: Check out the superb Grand Banks 52 Motoryacht, just listed today. Perfectly appointed for long-term cruising and enjoyment. (No longer available)
Contact Us Today!
Find out how we can work with you on a direct, personal level to meet your buying or selling needs.
Thank you!
Leslie Quarrier, CPYB, Principal and Lead Yacht Broker (licensed in Florida)
Leslie@EssexYachtSales.com
Cell (860) 388-8701
Office (860) 767-3013
eFax (860) 760-6797
Reuben Trane, Senior Professional Adviser and Southeast Representative
Reuben@EssexYachtSales.com
Cell (786) 303-1013
Peter Amos, CPYB
Yacht Broker and Operations Manager
Peter@EssexYachtSales.com
Cell (860) 304-1399