JUNE 9-11, 2023: EASTBAY RENDEZVOUS, SAFE HARBOR ESSEX ISLAND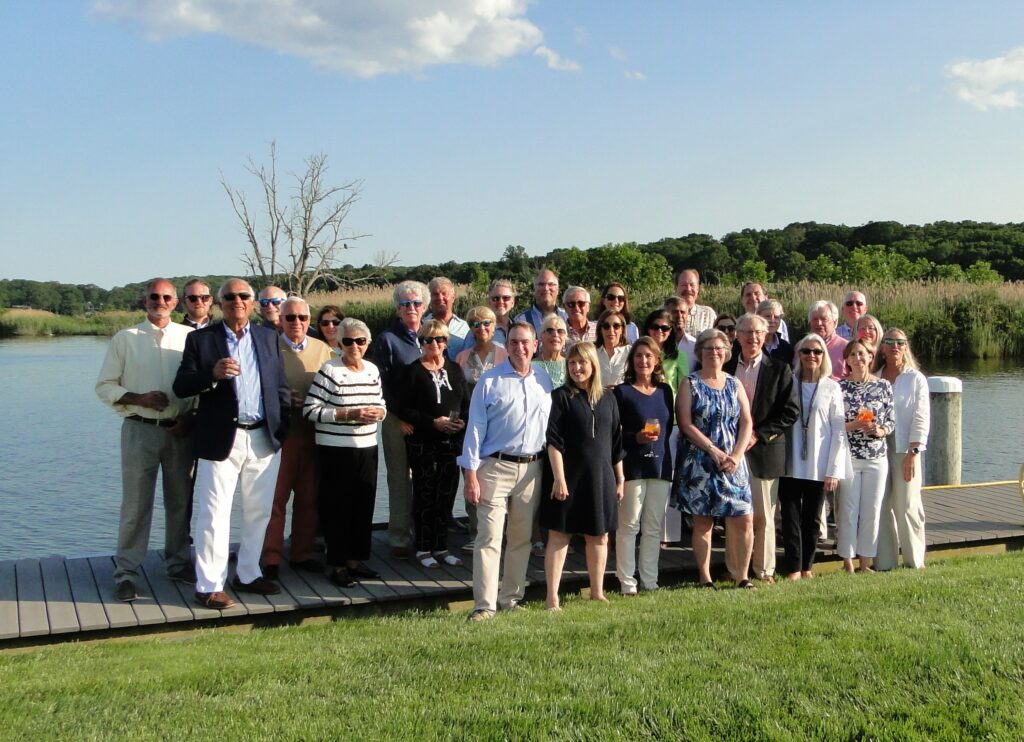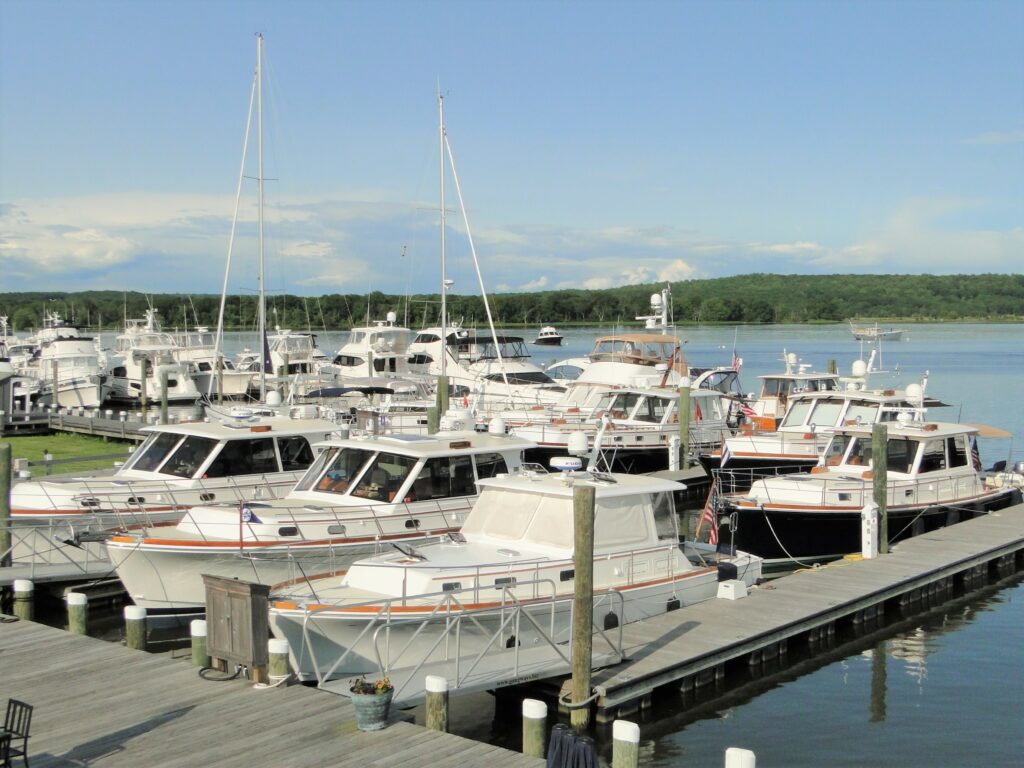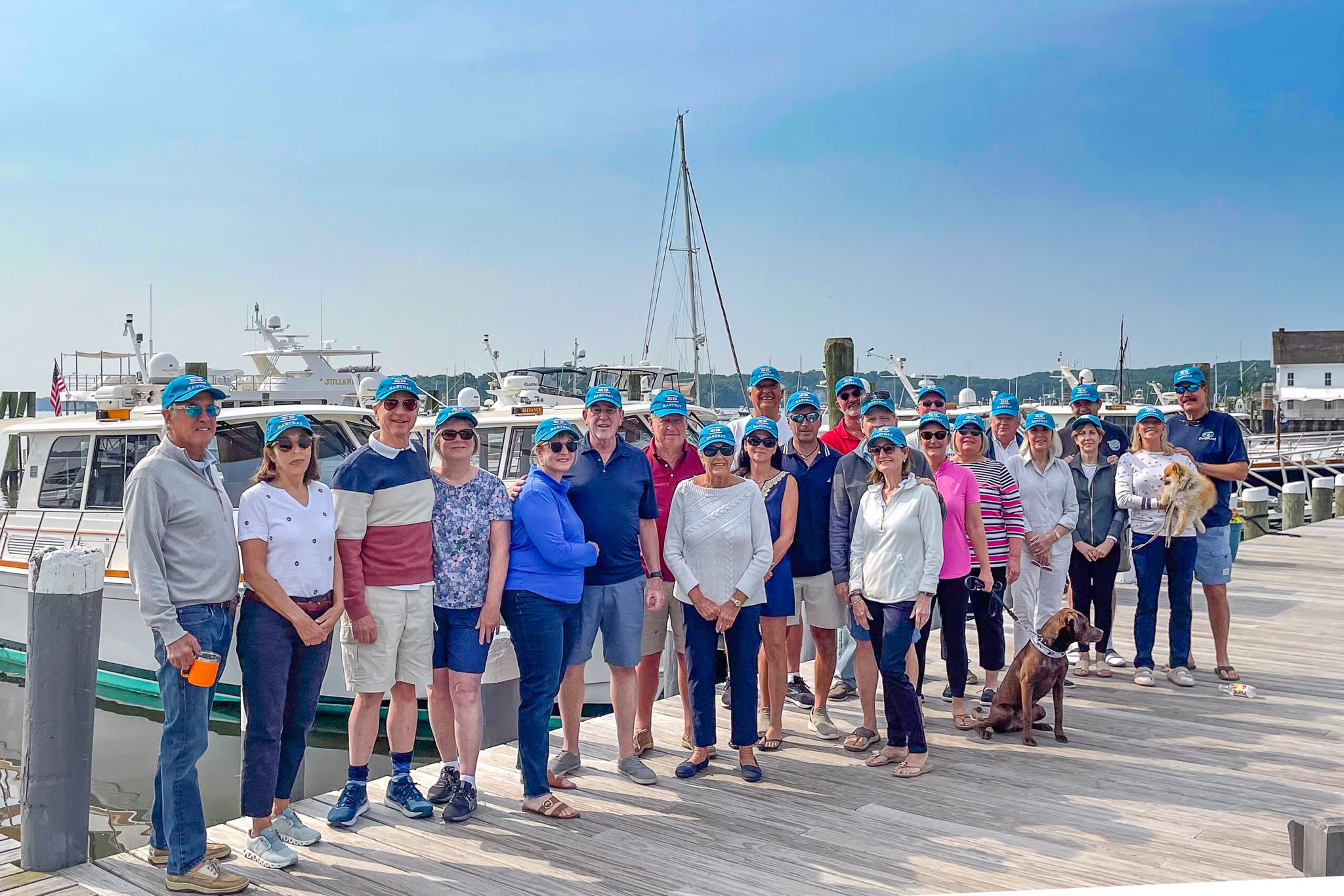 CT SPRING BOAT HOW APRIL 28- MAY 1, 2023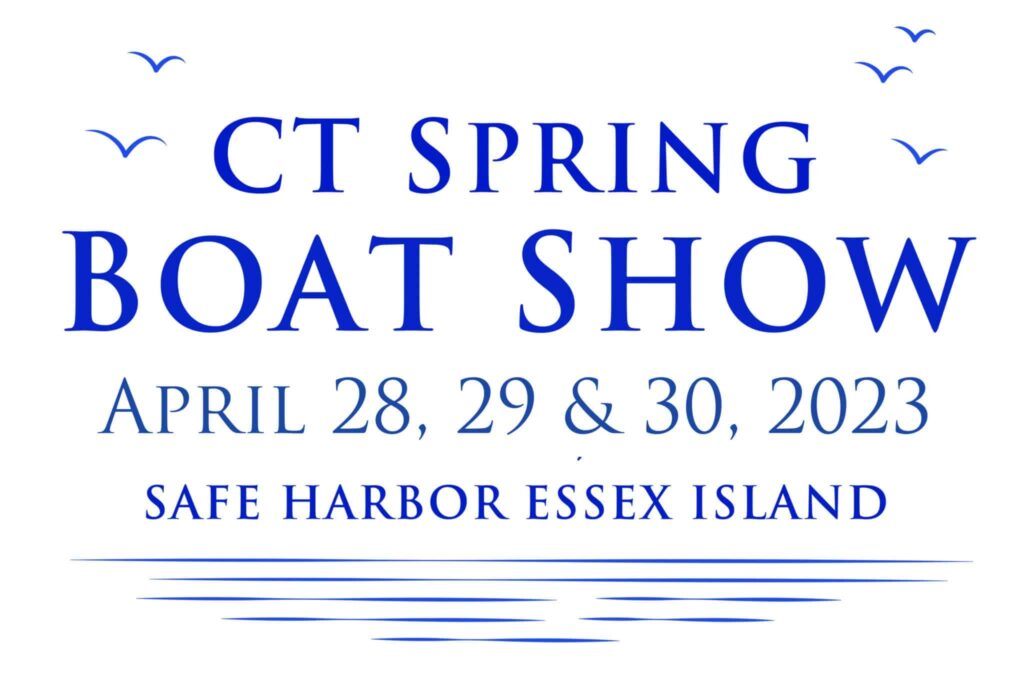 ---
Eastbay Rendezvous, Mystic Seaport, June 10-12, 2022

---
Connecticut Spring Boat Show: Essex Island, April 29, 2022 to May 1, 2022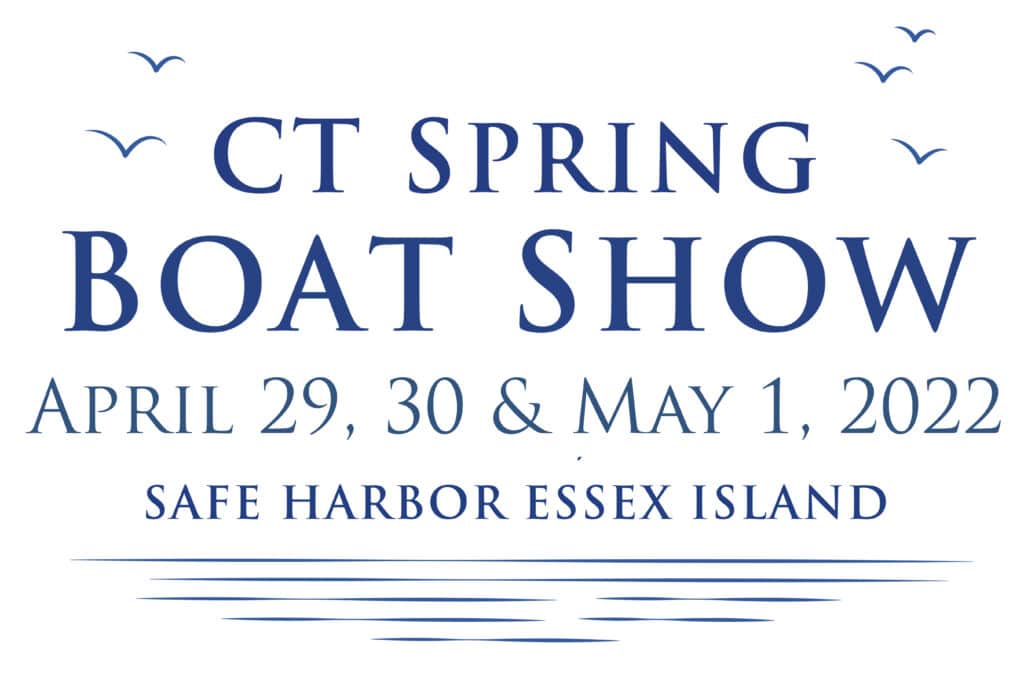 ---
Connecticut Spring Boat Show: Essex Island, April 30, 2021 to May 2, 2021
---
Open House in Essex: Oct 3/4 10 am to 4 pm
---
Connecticut Spring Boat Show: Essex Island, May 1-3, 2020 – cancelled
---
Newport Brokerage Boat Show, September 12-15, 2019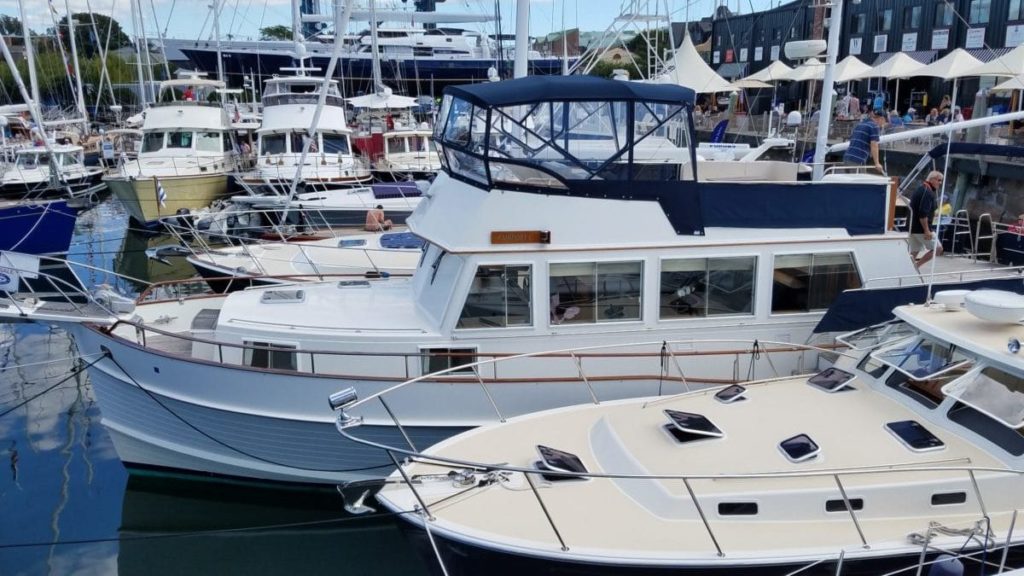 Essex Yacht Sales will be exhibiting in Newport again this year. The Newport Brokerage Boat Show is one of the premier East Coast Shows, which takes place in conjunction with the Newport International Boat Show. These two shows run concurrently and are connected by water shuttles that operate all day, ensuring maximum visitor traffic to both shows.
Located in the iconic location of Newport, the home of yachting, these two shows attract a high-end clientele, with a large proportion of well-qualified, motivated buyers, as well as yacht brokers from across the US.
---
December 26, 2018: Soundings Used Boat Review by Steve Knauth: Eastbay 43 Flybridge
The Eastbay 43 became one of Grand Banks' most popular Downeast-style designs.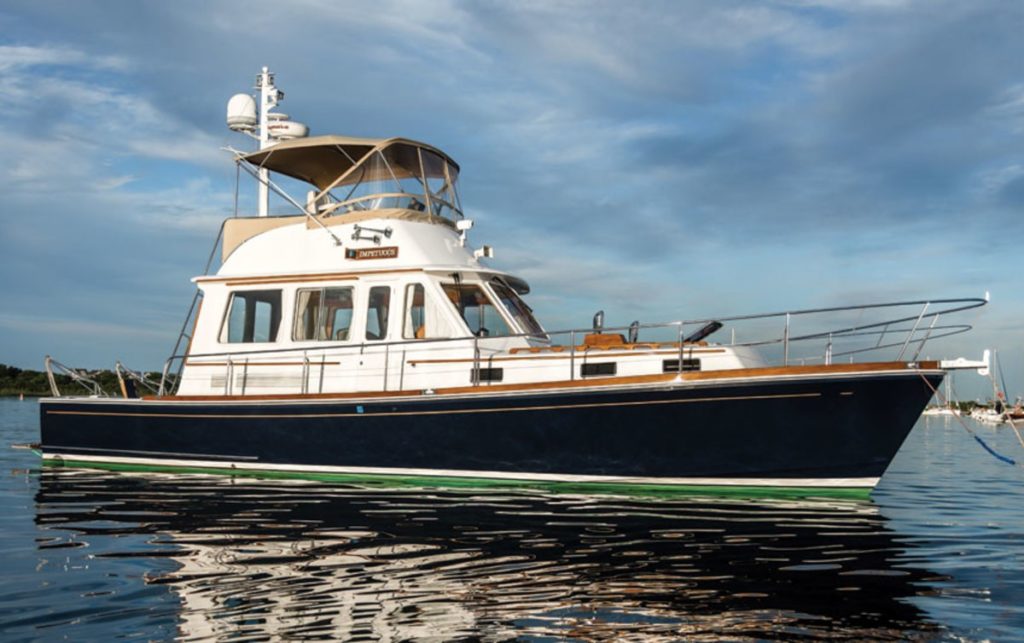 Photo by Scott Conner
LOA: 43'0" / Beam: 13'2" / Draft: 3'8" / Displ.: 31,000 lbs. / Fuel: 450 gals. / Water: 110 gals. / Power (base): (2) 300-hp diesel inboards
What's in a boat name? Sometimes, a lot. Take the name Impetuous. It's an adjective that can mean "acting or done quickly." It also tells the tale of Scott and Sara Conner and their 43-foot Downeast cabin cruiser.
"We are really big planners. We think through all of our big decisions," Sara says. "Yet with this, we went from 'let's buy a boat' to owning a boat in like a month, while not knowing anything about it. It was a very impetuous decision, and that's why we named the boat Impetuous."
The West Hartford, Connecticut, couple had grown up around boats, including small sailing craft—Lasers and Blue Jays—but as adults had never owned a boat. About three years ago, with their two daughters growing up, the Conners saw that they were nearing empty-nest time. "We were looking at houses near the water," Sara recalls, "and as we were struggling with this, Scott said, 'Maybe we should just get a boat.' The second he said it, it was like, 'Yeah, let's get a boat.'"
The boat would serve as a movable home on the water. With their flexible careers (he's in real estate, she's an independent TV producer), the 50-year-olds could mix business and boating. "As long as Scott has a Wi-Fi connection, he's good," Sara says.
They went to the Newport International Boat Show and stepped onto the first boat they came to: a 2001 Grand Banks Eastbay 43 Flybridge. "It wasn't what we'd envisioned," Sara says. "It seemed kind of big."
They looked at more boats. Then they went back to the Eastbay for a second look. That was all it took. "Her aesthetic is old-school beautiful," Sara says. For Scott, it was the saloon and flybridge helms. "I love the flexibility of being able to go up to the flybridge," he says. "The twin helm stations were huge for me." The galley had all the amenities for long stays on board, and, with two staterooms and a convertible settee, there was room for family and friends—and their labradoodle.
Sara called her parents, who had lived on a Grand Banks trawler for five years. "Should we do this?" she asked. "Absolutely," was the answer.
Scott and Sara Conner aboard Impetuous.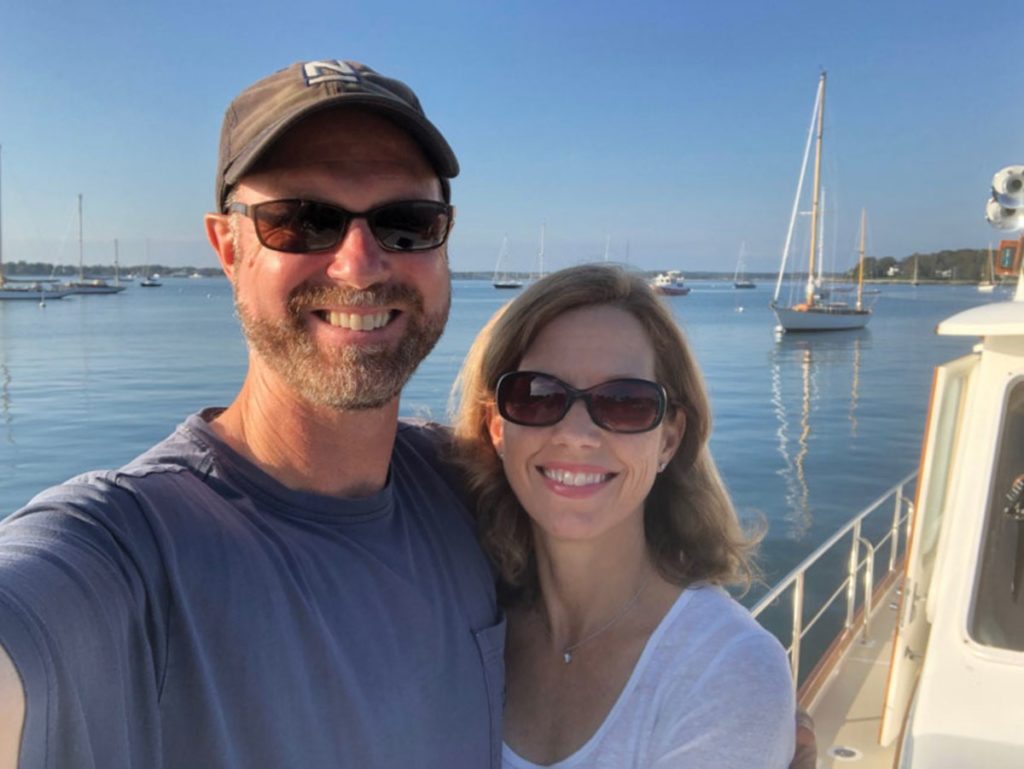 Scott and Sara Conner
Sara and Scott bought the boat for around $300,000 just before the 2016 season, through Leslie Quarrier at Essex Yacht Sales in Essex, Connecticut.
Then, the learning began. "We were babes in the woods," Scott says. "It was very helpful to have the advice of an experienced broker. She even put us in touch with an instructor for a day on the water."
Impetuous has a cruising sweet spot of 17 to 18 knots, he says. The boat is powered by twin 435-hp Caterpillar 3208 diesels. "When we bought the boat, they had less than a thousand hours on them," Scott says. "That's another reason I found this boat appealing."
Running the boat just took practice. The on-water instruction alleviated all of the couple's major fears, Scott says. "Docking was some concern, but with a bow thruster and two engines, it didn't take long before we got the hang of it," he says. Sara read her copy of Chapman's Piloting & Seamanship and brushed up on navigation skills. "I had done some navigating on my parents' boat, old-style, though," she says. "Navigating with electronics, I can't believe how easy it is. And there are a lot of resources out there. I took a class from the United States Power Squadrons."
Last year, the couple felt confident enough in their skills and their boat to take a three-week cruise. "It was just the two of us," Sara says. "And it was super fun for me because we ended up going back to places I remember going to as a girl."
The ultimate destination was Nantucket, she says, but while cruising through Connecticut and Massachusetts, they also stopped in Mystic, Watch Hill, Cuttyhunk and Martha's Vineyard. Even fog-bound in Nantucket, they enjoyed their time on board. "Even if you're socked in, it's like you're home," Scott says of the Eastbay.
Then there are those days when the Conners drive down to Essex, Connecticut—where they keep the boat—and cruise up and down the Connecticut River, watching the swallows and enjoying the sunset. There, Scott says, they realize that their "crazy idea has worked out quite well."
WALKTHROUGH
The Powerboat Guide calls the Eastbay 43 Flybridge a "gold-plated flybridge yacht with timeless Downeast styling." It rides a modern, deep-V fiberglass hull with propeller pockets to reduce draft. The standard layout had a V-berth forward in the master stateroom with an adjacent head compartment and a guest stateroom amidships to port. The galley-up was to port in the saloon, with a dinette (convertible to a berth) across the way and two head compartments. An alternate layout put an island berth in the master suite, moved the galley down and moved the second stateroom to starboard. Additional seating was added to the saloon. Both versions had a lower helm station to starboard, a flybridge with a centerline helm station and companion seating. The open cockpit had a transom door for access to the swim platform. Power came from Caterpillar diesels; the standard 300-hp models rendered a cruising speed of 20 to 22 mph. Larger engines gave the Eastbay 43 a top end as high as 25 mph.
This article originally appeared in the January 2019 issue of Soundings.
---
June 9-10, 2018: Eastbay Rendezvous at Mystic Seaport
---
May 4-6, 2018: CT Spring Boat Show
---
February 2018 Power and Motor Yacht: Used Boat Review: Shannon Voyager 36, by Captain John Wooldridge
A Down East-inspired Shannon Voyager 36 might be just the ticket to your cruising dreams.
Classic Cruiser
Appealing lines, well-protected exteriors, and a deckhouse that features plenty of windows: The lure of owning a classic yacht runs deep.
The lure of owning a classic yacht, like a Down East-inspired cruiser, runs deep for boat owners who prize lines that are always easy on the eyes, exteriors that are well protected for those moving around under way, and deckhouses that feature plenty of windows. And if that yacht is well built, and suited for use in open waters in a wide range of conditions, its usefulness and value climb quickly.
The Shannon Voyager 36 is such a vessel. It was first built in 1991 as a flybridge yacht, just as Down East cruisers were enjoying phenomenal growth in popularity. Chelsea Morning is Hull No. 9, built in 1993 without a flybridge at the original owner's request. This Rhode Island-based builder of semicustom offshore sailing yachts, founded in 1975 by Walter Schulz, has a long history of satisfying this type of individual preference.
The yacht has all the elements of a desirable cruiser, starting with a nicely sprung sheer that rises high forward over a distinctly flared bow to deal with big waves. A sharp entry and deep forefoot below the waterline soften wave penetration at speed, and full-length chines make for a drier ride and good roll stability. Her wide beam carries well aft and allows for spacious volume and she runs modestly fast on a semi-planing underwater surface.
The salon invites you to kick off your Sperrys and stay a while, thanks to warm woods and sailboat-style charm.
As a semicustom boat, the Shannon 36, especially the later models, could be powered by twin 300-horsepower Caterpillar 3126 diesels for a cruising speed of 16 to 18 knots. The builder reports a top end of 25 knots with this power, and a cruising range of approximately 500 nautical miles, depending on conditions and the speed selected. The first owner of Chelsea Morning, which was originally powered with a pair of 250-horsepower Peninsular Diesels, had the yacht repowered in 2003 with a pair of 370-horsepower Yanmars that produced upper cruising speeds from 18 to 25 knots; top speed was 30 knots.
Like all Shannons, the Voyager 36 is built with proven construction techniques that optimize the yacht for open-water cruising. Shannon adopted isophthalic gelcoat in 1978, as well as vinylester resins and epoxy undercoating in 1986, to mitigate osmotic blistering. Hulls and decks are composite laminates employing linear foam and an engineered mix of unidirectional and high-glass-content laminate fabrics for strength. In short, Shannon is known for building yachts that will satisfy the needs of distance cruisers who want to tackle open water; that reputation impressed the original owner of Chelsea Morning.
Have a closer look at "Chelsea Morning" in the gallery below:
"The original owner took her on an extended cruise up the Hudson, down the St. Lawrence River, and west along the Atlantic coast of Canada and the U.S. to get back to his homeport of Rowayton, Connecticut," said Peter Amos, the associate broker at Essex Yacht Sales, which handled the sale of Chelsea Morning in late 2017. "Sarah Lively, the previous owner, and her husband, David Dorrance, used the boat extensively on Long Island Sound. The new owners, Rob and Jenn Mellinger, have moved her to a Middle River marina near Baltimore, Maryland, and will be cruising the Chesapeake Bay."
The Mellingers were attracted to Chelsea Morning in part because she was a two-owner boat from a well-regarded builder, and because the previous owners were meticulous in their care and maintenance of the yacht.
This is typical of many of the yachts represented by Essex Yacht Sales. Leslie Quarrier, a CPYB member, is the principal and lead broker for the company. With more than 25 years of experience, she understands the cruising yacht market deeply. The featured listings and recent sales on the company website illustrate this point.
On deck, there are numerous features to consider. The attached swim platform features teak grates for fast drainage, there's a portside transom door for easy boarding, and a teak-planked open cockpit (with a canvas bimini for protection from the elements) large enough to accommodate folding chairs. Molded steps lead up to the side decks, which are initially narrow because the designer pushed the cabin sides wider amidships than one would expect for a Down East-inspired design, but Shannon also equipped the boat with lots of well-positioned stainless steel handrails and a wider deck forward of the sliding helm door to make anchoring or line handling simpler and safer. The anchor platform stores two anchors, which serious cruisers will appreciate.
Generally speaking, the salon layout is galley-up, with a small settee aft and an L-shaped galley plus companion bench seat forward on the port side. On the starboard side, there's an L-shaped convertible dinette aft and the helm forward. A centerline set of companionway stairs leads down to an owner's cabin in the bow, a head compartment with shower/tub to port and a bunk-equipped guest cabin to starboard.
Within this plan, there are some interesting and desirable features. Double "French-style" teak and glass doors to port of the centerline open wide to blend aft deck and salon spaces, all on the same level. In application, it successfully resolves the builder's efforts to have the galley positioned to serve passengers seated inside and outside equally well. Upper and lower glass panels in the doors make "checking your six" that much easier, as do the opening windows in the flanking aft bulkheads.
Not only is there great natural light in the salon, but with three overhead Bomar hatches, an opening centerline windshield panel, and sliding windows to port and starboard, natural ventilation is good, too. There are also outstanding sightlines for the helmsman as well as the guests. If Chelsea Morning had a sliding sunroof, she might have been the best naturally ventilated and illuminated yacht of her decade!
Because sometimes it's desirable to master the weather inside, Chelsea Morning was also equipped with a 5-kilowatt Westerbeke diesel genset and a pair of 9,000-Btu Marine Air air-conditioning units. And because the engine compartment is located beneath the salon sole, there's always plenty of room to inspect and service components, as well as make daily engine checks prior to startup; here, you won't have to crawl into a small space with no overhead clearance.
A quick glance at the helm shows an area ideally suited for sitting or standing during operation of the yacht, with a large custom Edson teak-rimmed stainless destroyer wheel. I like the electrical panel near the helm, and this one is well-positioned for ease of activation by the helmsman. The large chart flat on top is well suited to bracket-mounted electronics, and for those who prefer flush-mounted electronics, there appears to be plenty of room for console modification.
The fit and finish of any vessel is a clear indicator of the builder's care and craftsmanship, and Shannon is well regarded on both counts. The satin-varnished teak cabinetry, white-laminate bulkhead panels and teak trim harken back to the days when wooden boats were king, and their craftsmen were appreciated as artists. The varnished teak parquet cabin sole was a well-accepted feature of hand-built interiors when the 36 was built.
The Shannon Voyager 36 has proven itself a capable distance cruiser as well as a comfortable weekend getaway yacht; that's exemplified in Chelsea Morning. It seems to me that if you're a fan of Down East cruisers, this is one design you can't afford to overlook.
This Shannon was repowered with Yanmars for improved efficiency and range.
Specifications:
LOA: 38'3″
BEAM: 13'3″
DRAFT: 3'0″
DISPL.: 17,500 lb.
FUEL: 350 gal.
WATER: 150 gal.
POWER: 2/370-hp Yanmar 6LYA-STP diesels
YEARS BUILT: 1991 to 2005
PRICE RANGE: $125,000 to $375,000
This article originally appeared in the February 2018 issue of Power & Motoryacht magazine.
---
November 1, 2017: Soundings article on 'Paradis' Grand Banks 42 Europa, by Steve Knauth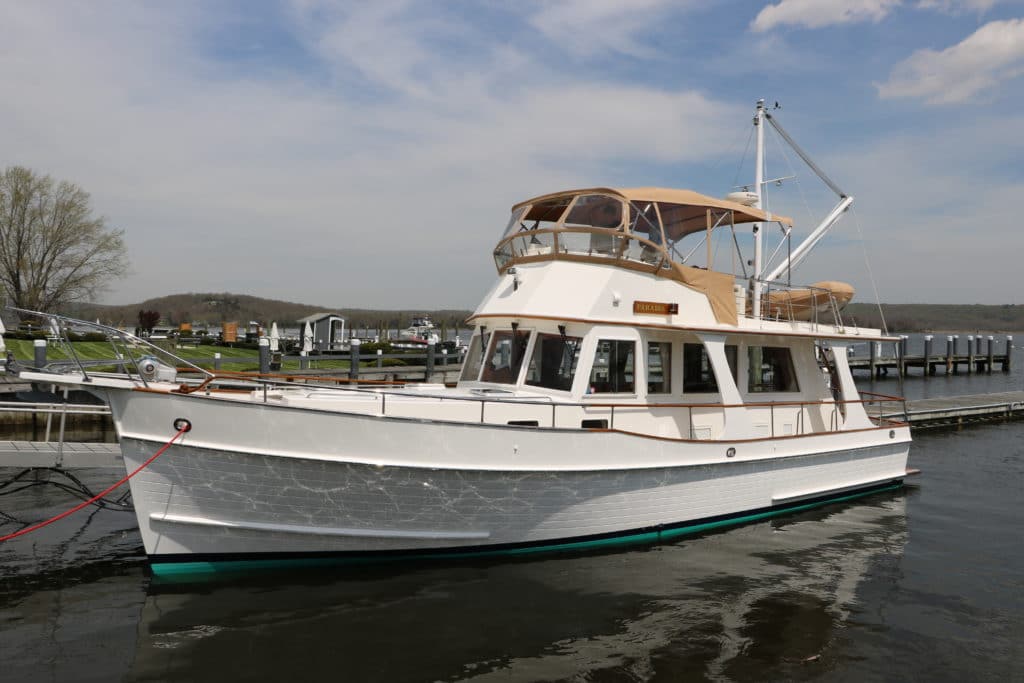 By Steve Knauth
We all know the feeling. Walking off the dock after a day on the water, you can't resist turning around and taking one last look at your boat. There's just something about her. Rich and Betsy Didan get that feeling when they pause to admire their 2005 Grand Banks 42 Europa. It's a wonderful little thrill.
"When you stand back and look at the stern of Paradis, the inviting sliding glass double doors grab your heart and attention," says Rich Didan, a 62-year-old electrical engineer. "The spacious covered rear deck, the teak-railed staircase to the spacious upper deck — this was truly designed and built for family, entertaining and long travels. They just don't make them like that anymore."
The Didans bought their boat — hull No. 1560, the last 42 Europa before the model was retired — this past summer. The price for the turnkey vessel was $550,000. It's powered with twin 450-hp Caterpillar 3126B diesels, the layout is original, the high-gloss teak in the saloon and staterooms is in excellent condition, and just a few minor fixes were needed, Didan says.
Paradis replaced a well- appointed Mainship Pilot Rum Runner II, which had replaced a cuddy inboard. The cuddy replaced the couple's first boat, an O'Day 22 sailboat that they sailed on Candlewood Lake near Danbury, Connecticut. "When our daughter was a teen, we moved to the Cobalt 233 cuddy and enjoyed staying on board overnight," Didan says. "After our daughter left for college, we were empty-nesting, and our thoughts turned back to our dream of owning a coastal cruiser." The Mainship filled that need quite well.
SPECIFICATIONS
LOA: 43 feet, 3 inches
BEAM: 13 feet, 7 inches (14 feet, 1 inch from 1996)
DRAFT: 4 feet, 2 inches
WEIGHT: 39,000 pounds
HULL TYPE: semidisplacement
PROPULSION: twin diesels from 210 hp
FUEL CAPACITY: 600 gallons fuel, 278 gallons water
BUILDER: Grand Banks Yachts, grandbanks.com
Looking to move up in size, the Manchester, Connecticut, couple first saw the GB42 Europa at the spring boat show at Brewer Essex Island Marina in Essex, Connecticut. Leslie Quarrier of Essex Yacht Sales, who'd sold them their Mainship, had brought Paradis to the show from Greenport, New York. "Of course we went aboard — twice that day — and then [Betsy and I] talked about it all evening," Didan says. "Two weeks later we went over to Greenport and scheduled a private showing, which enticed us even more."
A few weeks of reviewing, another trip to Greenport and a "dinghy drive-by — and that was the deciding evening," he says. "The next day, we made an offer."
A season of fishing and cruising followed. "Two of our favorite places are Brewer Stirling [marina] in Greenport and our very favorite spot to overnight, the anchorage in Coecles Harbor," Didan says. "The peacefulness and sunsets are spectacular." Sometimes the couple stay at their slip at Brewer Essex Island Marina, hanging out with their friends.
But the Didans like it best when their grandchild comes aboard, accompanied by their daughter and son-in-law. There's plenty of room for the growing family aboard the twin-stateroom trawler, which tops out around 23 mph and cruises easily at 17 to 18 mph. "We take a lunch cruise to another favorite day anchorage, in front of the Goodspeed Opera House in East Haddam," Didan says. "And now they all can stay for the entire weekend, with our more spacious accommodations."
There's more on the Europa's upcoming itinerary, too. The couple will be retiring soon, and their plan is to "travel some distances," as Didan puts it, cruising up the East Coast to Maine, taking the Hudson River route up toward the Erie Canal and the Great Lakes — maybe even venturing south to the Carolinas.
"Paradis was a very well-cared-for vessel, and the owners took pride in keeping her original and pristine," Didan says. "They were proud to own the final hull, and now we are proud to own that heritage. We have always admired the gracefulness of the Europa and the quality of the craftsmanship."
WALKTHROUGH
PowerBoat Guide calls the Grand Banks 42 Europa an "elegant sedan trawler." Classic features include a pilothouse saloon, distinctive bulwarks and a trunk cabin, with bridge overhangs defining the model. The flybridge, reached by a ladder, has a full helm station, passenger seating and room for dinghy stowage aft, with a boom for launching.
Below the waterline, the Europa rides a semidisplacement hull with a full keel and protected prop. Original power choices ranged from twin 210-hp diesels to 375-hp power plants that delivered a 15- to 17-mph cruising speed. Cruising fuel capacity is 600 gallons.
The interior, richly finished in varnished teak, has a twin-stateroom layout. The master is forward, with a queen-size island berth and an adjacent head compartment with a shower. The second stateroom, amidships, is laid out with a double berth and a head compartment with a shower stall. The U-shaped galley is up and convenient to the saloon and to the L-shaped dining area with lounge seating. Galley gear includes a cooktop, stove and refrigerator.
BACKGROUND
In the early 1960s, American Robert Newton and his two sons were building custom sailboats and powerboats on Junk Bay in Hong Kong. In 1963, they launched a 36-foot trawler-style cruiser designed by Ken Smith. They called her Spray. The boat was such a success that the builder devoted itself to the design. Called the Grand Banks, it and its successors were pioneers in the trawler yacht market.
xxXxx
---
Eastbay Rendezvous June 2-3, 2017, Mystic Seaport
Terrific Eastbay Rendezvous at Mystic Seaport. Nicholas Bell, SVP Curatorial Affairs, spoke at the breakfast hosted by Essex Yacht Sales. Nicholas is pictured below, in the Masin Conference Room, in front of the classic Everett Scholfield photograph of Mystic in 1874.
Drone footage may be viewed below, made available by courtesy of our friends at Mystic Seaport.
https://youtu.be/bG0Axy622sM
---
Newport Boat Show, September 14-17, 2017

---
Mystic Seaport hosts an East Bay Rendezvous – June 2 and 3, 2017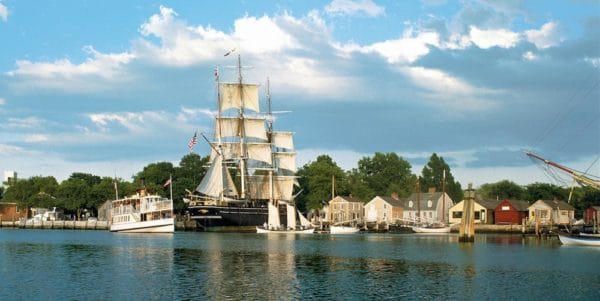 Breakfast sponsored by Essex Yacht Sales
Download details:  Mystic Seaport Eastbay Rendezvous 2017
---
Mark your calendars for the Connecticut Spring Boat Show, Essex Island, May 5-7, 2017
---
Visit Essex Yacht Sales at the Palm Beach International Boat Show, March 23-26, 2017
Visit us at the Nimbus display.
---
Visit Nimbus Boats at the Dusseldorf Boat show January 21-29, 2017
Hall 5, Stand C19
---
Essex Yacht Sales appointed dealer by Nimbus Boats
Essex Yacht Sales is proud to announce its appointment as authorized dealer for Nimbus Boats, of Gothenburg, Sweden and Delray Beach, FL. Click here for more information
---
Essex Yacht Sales has been appointed Strategic Sales Partner to Delta Powerboats.
Essex Yacht Sales is excited to present the exciting and innovative range of boats and motoryachts from Delta Powerboats, from 26′ to 88′. Click here for more information
---
Eastbay Rendezvous, Mystic Seaport, Oct 1-3
Event postponed by Mystic Shipyard due to possible inclement weather. Will likely be rescheduled for June.
This small, intimate gathering packs-in a great experience with:
Behind the scenes tour of the Collections Research Center and Watercraft Hall
Complimentary tickets to the cocktail party for the 37th Annual International Marine Art exhibit
Sunday morning breakfast in the Masin Room of the brand-new Thompson Exhibition Building
Come by water or land and enjoy the delights of Mystic Seaport. Full details, including how to register (hurry – space is limited) are given in the brochure. See link below
mystic-seaport-eastbay-rendezvous-10-01-16
The weekend is graciously sponsored by the Gowrie Group, with Essex Yacht Sales sponsoring the Sunday breakfast.
---
Newport Retrospective
Essex Yacht Sales displayed three important yachts at the 2016 Newport Brokerage Show. These were: 2014 Eastbay 50SX, 2015 MJM 40z, and 2000 Grand Banks 52 Motoryacht. With four full days of glorious fall sunshine, and terrific boats, show traffic was strong.
A feature of Essex Yacht Sales' display were the dockside stands showing full details of each boat, plus an overview of the the brokerage's services to both buyers ans sellers. See example below:
Newport Boat Show September 15-18,2016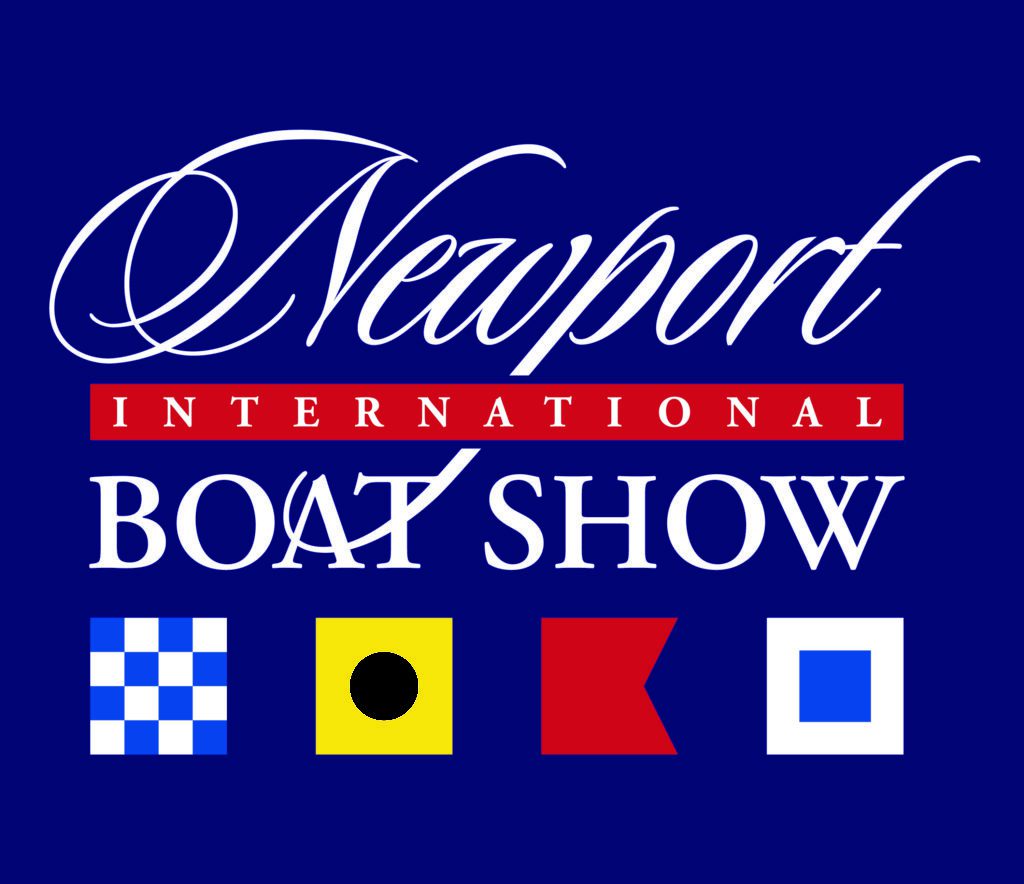 See Essex Yacht Sales at the Newport Brokerage Show, (held in association with the Newport International Boat Show).
The In-Water Brokerage Show is held at the Newport Shipyard. Over 100 quality yachts will be on display from 40′ – 140′. Admission the Brokerage Show is free.
Convenient, fast, water shuttles run continuously during show hours to link the New and Brokerage Shows.
---
Connecticut Spring Boat Show, Brewer Essex Island Marina, May 3-5
Essex Yachts Sales will display a Grand Banks 47 Heritage and 42 Classic, two Eastbay 38, and a Blue Seas 31. Also in conjunction with Rockport Marine, a static display of the RM 26 Dayboat and 44 Express
---
Essex Yacht Sales releases a new brochure
Essex Yacht Sales' new brochure is a stunning 6-page full color piece. Contact us to receive your copy by mail. Call (860) 767-8484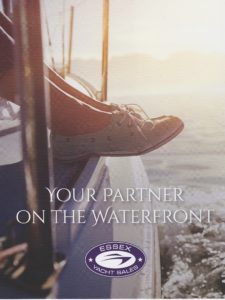 ---
New marketing alliance with Rockport Marine is announced
Essex Yacht Sales announces a new marketing alliance with renowned custom boat builder and designer Rockport Marine, of Rockport, Maine. Under the terms of this alliance, Essex Yacht Sales will proudly offer Rockport Marine's exceptional RM26 classic New England day boat and the new RM44 Express.
Essex Yacht Sales, in conjunction with Rockport Marine, will present complete information on the 26' and 44' boats at the Connecticut Spring Boat Show, Brewer Essex Island Marina, Essex, Connecticut, from May 13 to 15. Design staff from Rockport Marine will be on hand to meet prospective clients and discuss the bespoke design services offered to owners.
---
March 2016: Download our latest "Soundings" Ad here
February 1st, 2016: Essex Yacht Sales launched. See online news release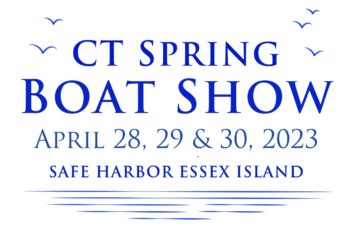 For Listings Click here. If you're looking for a particular kind of boat, Essex Yacht Sales can find it for you. Click here.
News & Events
June 9-11, 2023: Eastbay Rendevous at Safe Harbor Essex Island
April 28- May 1, 2023: CT Spring Boat Show at Safe Harbor Essex Island
July 22-24, 2022: Classic Wooden Boat Show at Safe Harbor Essex Island the the Connecticut River Museum, Essex
June 10 – 12, 2022: Eastbay Rendezvous at Mystic Seaport, supported by Essex Yacht Sales
April 29 – May 1, 2022: CT Spring Boat Show, Essex Island
Jan 28, 2021: Leslie Quarrier CPYB was honored with CPYB's 2020 Dedicated Service Award.
Dec 30, 2020: The 2021 boating season is coming very soon! Let us help you buy or sell a boat
Dec 1, 2020: The CT Spring Boat Show will take place at Essex Island from April 30, 20201 to May 2, 2021
Nov 20, 2020: The market is still very active. This is an excellent time to offer your boat for sale. Contact EYS (860) 388 -8701
Oct 3/4, 2020: Essex Yacht Sales Open House, Dauntless Shipyard, Essex, 10 am to 4 pm
August 4, 2020: We have many new listings. Now is the time to list, and sell,  your boat.
July 7, 2020: All boat shows have been cancelled due to COVID. However sales activity is at record levels and we are actively listing, showing and selling boats.
May 20, 2020: Our office has re-opened. Activity is strong.
April 9, 2020: The Connecticut Spring boat Show has been cancelled, due to the COVID-19 pandemic.
December 4, 2019: Essex Yacht Sales reports that Peter Amos has been admitted as a Certified Professional Yacht Broker (CPYB). Essex Yacht Sales has the rare and coveted distinction, held by only 39 other brokerages throughout the US and Canada, of being an 'Endorsed Brokerage' with all of its brokers holding CPYB certification.
October 10, 2019: Yacht sales continue to be strong, and the market is active into this beautiful New England fall. This reflects strong consumer confidence, highs on the Stock Market, and a shortage of boats in some sectors. This is supporting the prices of good brokerage boats. We are looking for quality listings, and will market your vessel professionally and energetically.
August 17, 2019: Join us a the 2019 Newport Brokerage Boat Show, Sept 12-15
June 2, 2019: See new listings: Duffy 35 HX and Eastbay 38
May 6, 2019: Great Show in Essex!
Feb 7: The Connecticut Spring Boat Show will take place at Essex Island, Essex, CT from May 3-5, 2019. Join us!
Dec 26: Read Steve Knauth's Eastbay 43FB article in Soundings. Click here
November 24: Just listing a  rare and very special Uniesse 48′, 1998. In the Essex CT area.
October 15: Just listed a nice Legacy 28, 2001
October 31- November 4: See the new Nimbus W-9 series at the Fort Lauderdale International boat Show
September 13-16, 2018: Newport Boat Show and Brokerage Show – see us in Newport!
August 31, 2018: See our beautiful 1997 Grand Banks Heritage Classic 42, just listed
May 19, 2018: Just listed a beautifully maintained and upgraded Krogen Express, 2009, commissioned 2011, sold new 2012
May 2, 2018: Just listed an impeccable 2015 Regulator 25
April 30, 2018: Just listed a beautiful Grand Banks 42 Classic, 1986. See her at the CT Spring Boat Show , Essex Island, May 4-6.
April 5, 2018: Jon't miss the CT Spring Boat show in Essex Click here
March 2, 2018: We survived the great ice dam in the CT River and were so grateful to the USCG. We dodged Winter Storm Riley, so what else is is in store? Hopefully tranquil, warm waters ahead, and a splendid boating season. The CT in-water Spring Boat Show is coming soon to Essex: May 4-6, 2o18
February 26, 2018: Started the year really well, with excellent sales in February, despite the weather – we predict a very good season. Brokerage prices are strong, so this is the perfect time for Essex Yacht Sales to list your boat, with good exposure at the upcoming CT in-water Spring Boat Show and comprehensive marketing.
January 18, 2018: Click here to see the latest Newsletter # 18: Click here
January 14, 2018: Click here to see the latest Newsletter # 17: Click here
January 9, 2018: Happy New Year! Essex Yacht Sales just listed a beautiful Eastbay 50 SX Click here
December 23, 2017: We have passed the shortest day (!) and are already seeing stirrings that 2018 will be an exceptional year for boat sales. Meanwhile we wish our many clients and friends a very Merry Christmas, Happy Holidays and best wishes for a healthy and prosperous New Year.
December 7, 2017: We were delighted by Steve Knauth's terrific article in 'Soundings' about GB 42 Europa 'Paradis'. This is an historic boat, hull number 1560, and the last of a storied tradition. Essex Yacht Sales was pleased to negotiate the sale of 'Paradis' Click here
November 1-5, 2017: Let us know if you will be visiting the Fort Lauderdale International Boat Show (FLIBS). See us at the Nimbus display.
October 29, 2017: See new listings: Sabreline 47 Motoryacht -2003, and Hunt Yachts Surfhunter 33 – 2006 Click here
September 28-30, 2017: TrawlerFest, Bay Bridge Marina, Stevensville, MD – see us there.
September 21-24, 2017: Norwalk Boat Show – see us in Norwalk.
September 14-17,2017: Newport Boat Show and Brokerage Show – see us in Newport
September 1, 2017: Nimbus Boats now come with a 10-year hull warranty. Click here
August 13, 2017: The brokerage market is very hot right now, so this would be an excellent time to list your boat with Essex Yacht Sales.
July 24, 2017: Subscribe to our YouTube channel for the latest boating videos Click here
July 21, 2017: We added two exciting new videos. Click here
July 14, 2017: Your Marine VHF is DSC-capable in an emergency, but have you registered it? It may save your life. Click here
June 2 and 3, 2017: Mystic Seaport hosts an Eastbay Rendezvous.
Click here
April 11, 2017: Join us at the CT Spring Boat Show, Brewer Essex Island, May 5-7. Free entry, free parking
April 2, 2017: David Dorrance, CPYB joins Essex Yacht Sales. Click here
March 23-26, 2017: Join Essex Yacht Sales at the Palm Beach International Boat Show to view the Nimbus 305, 34 Nova and 405 Flybridge at the Palm Beach International Boat Show.
February 24, 2017: 68F today! The buyers are coming, the phones are ringing. List your boat now! We are very active showing boats and getting strong offers.
February 8, 2017: Essex Yacht Sales offers the rare opportunity to acquire a superbly presented Windy Tyhoon 43, 2007. Click here
February 4, 2017: Spring is coming soon! We are preparing for Boat Shows, listing boats, showing boats, and getting offers. Watch for several exciting new listings this week!
The market is hot, and good boats are in demand, so call Essex Yacht Sales today.
February 3, 2017: Three exciting new Nimbus videos have been uploaded to Essex Yacht Sales' You Tube Channel, which may be viewed here on the Nimbus page on this website Click here
January 19, 2017: Essex Yacht Sales will be exhibiting at the Connecticut Spring Boat Show, Brewer Essex Island, Essex, CT May 5-7, 2017
January 17, 2017: Essex Yacht Sales will be at the Nimbus display, at the Palm Beach International Boat Show, March 23-26, 2017,
November 19, 2016: Boat sales activity continues, with strong accepted offers in November. Buyers are seeking good quality brokerage boats, which are in short supply. Now is a great time to list your boat with Essex Yacht Sales, or engage us to find that special boat for you (no fee to buyers).
November 8, 2016: Essex Yacht Sales has been appointed Strategic Sales Partner to Delta Powerboats. Essex Yacht Sales is excited to present the exciting and innovative range of boats and motoryachts from Delta Powerboats, from 26′ to 88′.
Click here for more information
November 5, 2016: Please call us about listing your boat. We are seeing strong buying activity from the west coast and south-east, where the boating season continues year round. Certain US brands of new boat are not keeping up with demand, This drives a strong market for well-maintained, quality boats, available, immediately. This is a great time to list your boat.
October 16, 2016: Essex Yacht Sales welcomes on board Reuben Trane, as senior professional adviser and southeast representative. With deep roots in Florida, and extensive global experience, Reuben brings exceptional knowledge of the yachting industry and market. Mr. Trane has more than 35 years' experience designing, building and marketing pleasure craft, from 14' sail boats to 65' trawlers. During this period, he successfully created five different brands. Click here for more information
October 8, 2016: Three surveys in the space of 7 days, 3 showings just today tells us that the market is very active. We are seeing buyers from the South-East and West Coast. It is a great time to list your boat with Essex Yacht Sales. A quick fall sale can save you the cost of hauling, winterizing and storing.
October 1-2, 2016: Eastbay Rendezvous at Mystic Seaport. Postponed due to weather
September 15-18, 2016: Essex Yacht Sales displayed three boats in the Newport Brokerage Show: 2014 Eastbay 50SX, 2015 MJM 40z and 2000 Grand Banks 52 Motoryacht
July 24, 2016: See us at the Newport Brokerage Show (in association with the Newport International Boat Show), Sept 15-18, 2016.
July 22, 2016: Our newly listed Eastbay 50 SX has just 114 hours. Impeccable quality and condition throughout. (No longer available)
July 7, 2016: Check out the superb Grand Banks 52 Motoryacht, just listed today. Perfectly appointed for long-term cruising and enjoyment. (No longer available)
Contact Us Today!
Find out how we can work with you on a direct, personal level to meet your buying or selling needs.
Thank you!
Leslie Quarrier, CPYB, Principal and Lead Yacht Broker (licensed in Florida)
Leslie@EssexYachtSales.com
Cell (860) 388-8701
Office (860) 767-3013
eFax (860) 760-6797
Reuben Trane, Senior Professional Adviser and Southeast Representative
Reuben@EssexYachtSales.com
Cell (786) 303-1013
Peter Amos, CPYB
Yacht Broker and Operations Manager
Peter@EssexYachtSales.com
Cell (860) 304-1399